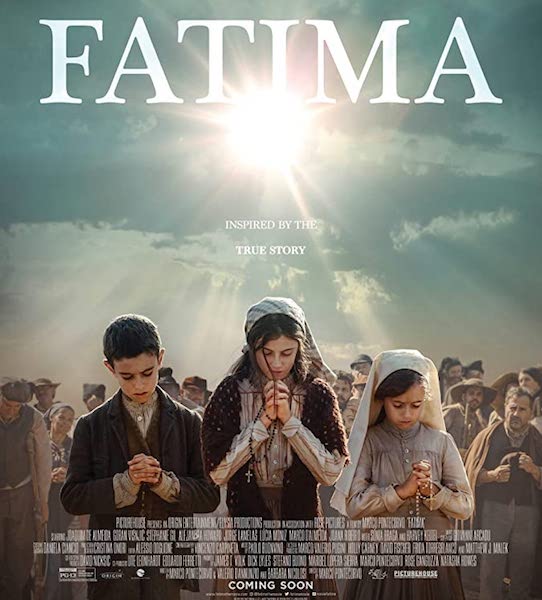 Fatima: A Movie Review (No Spoilers!)
September 8, 2020
On August 28, 2020, Fatima, the newest movie about the apparitions of Our Lady of Fatima, came out. Some theaters were open and showed it, but it is also on pay-per-view and Amazon Prime Video for those of us who want to stay home due to Covid-19. 
The movie was a beautiful and accurate recollection of the apparitions in Fatima, Portugal. Our Lady appeared to Lucia Santos and Francisco and Jacinta Marto, all three of which were under the age of ten, multiple times between May and October in 1917. The children were not perfect; they were very normal. For example, they would be told to pray the rosary and would just say "Ave Maria" instead of the whole Hail Mary. Sometimes they would yell it off of the mountainside and count the echoes toward each Hail Mary in the rosary. The movie, while it does not touch as much on the promises of Fatima, still captures the whole story very well. It includes the family dynamic of the three children and the political turmoil of the time. The parents did not believe them at first, and it caused many problems within the family. Because of their youth and the fact that they were poor nobodies made it unbelievable to people inside of the family. The government wanted to get rid of religion altogether, and thousands of people gathering for three kids allegedly seeing Our Lady did not quite fit into a society without religion.
https://www.instagram.com/p/CEr5MvugfhJ/
I watched the movie on pay-per-view with my family the night it came out. My brother, who is six years old, was so excited about it. Around 8:30, he fell asleep because that was late for him. In the morning, he started talking about how great the parts he saw were. He repeated different parts word for word, some of the things the children were told at first when their families didn't believe them. He said to my mom, "Mommy, why did their parents not believe them? Why did the priest not believe them? He said that it could be the devil in disguise." He started begging my mom to see the rest of the movie, and we were all amazed. The movie is a great testament to the apparitions and to our faith.
It was great to watch, especially with my whole family. The actors and actresses did a great job, especially the actress for Jacinta who portrayed her personality perfectly. This movie reminds us of our belief in a loving God who gave us His mother to be ours. She's always right there watching after us, whether we have the gift of physically seeing her or not.