Mary leads us to Jesus: AHN receives visit from Fatima
August 31, 2021
On August 27, 2021, the Academy of the Holy Names had an incredible opportunity to grow in faith. We were visited by the Fatima International Pilgrim Statue, which is a beautiful statue of Our Lady of Fatima that travels around the world, accompanied by Mr. Larry Maginot.  Patrick Phelan, Campus Minister who organized this visit, said, "The Fatima International Pilgrim Statue came to Academy from the support of our diocese. Our diocese is preparing to bring groups to World Youth Day in Fatima in 2023 and this was a great way to gain interest in this event. It truly was an impactful experience for our campus to receive the graces of Fatima right here in our own chapel!"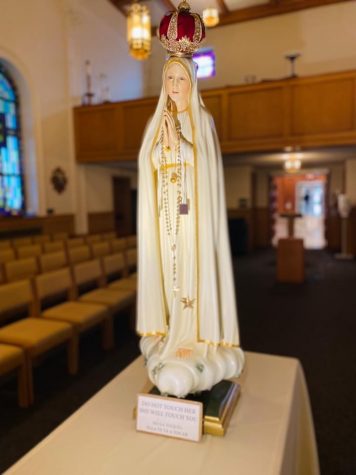 These graces that come from venerating Our Lady of Fatima are present because she prays to her Son for us, and He blesses us because He loves His mother and wants us to as well. As it said on the sign in front of her, "Do not touch her, she will touch you," Our Lady does touch our lives and our hearts, we just have to open ourselves to see it. 
Phelan also exposed the Eucharist for adoration, as Mary leads us to her Son, Jesus. We ask for her intercession in areas of our life, and she takes care of us as her children. She brings our petitions to her Son, our Lord, and carries us to Him as well.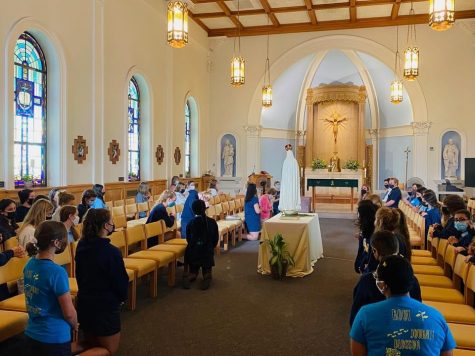 It was beautiful to spend time with the Lord and venerate His Blessed Mother. We, as Catholics, believe that Jesus is truly present in the Eucharist, it is truly His Body and Blood, which can be hard to wrap your mind around, but once you have an experience with Him, it just makes sense. Next time you are at adoration or Mass, whichever you go to first, open your heart to Him and He will show Himself to you. This particular experience had many people doing just that, which was incredible.
Junior Genevieve Chiellini said, "Even though I was only there for a short period of time, I loved seeing all of my peers around me accepting their faith, and I appreciate the resources we have to be able to worship all together."