Bringing XC Back: How AHN's Cross Country Team Preps for Races
September 26, 2016
Does the idea of running 3 miles a day seem intimidating? Well, imagine training for a 5k competition, six times a week, which consists of various tempo exercise and distances. With an upcoming invitational at the University of Florida on September 24, Academy's Cross Country team is prepping to the max.
Drink:
Junior Sara Phillips says, "we drink 30- 40 ounces of water a day during the week, and as much as possible the night before a race. Coach Ray [Rodriguez] recommends to drink watered down Gatorade or just water."
Eat:
Cross Country runners "carb load to the max," says Senior Lindsay Calka. Along with a beginning of the season pasta party, the team makes trips to Olive Garden before their annual UF Invitational meet.
Calka's go-to meal? "Spaghetti with red sauce and a ton of bread," she remarks.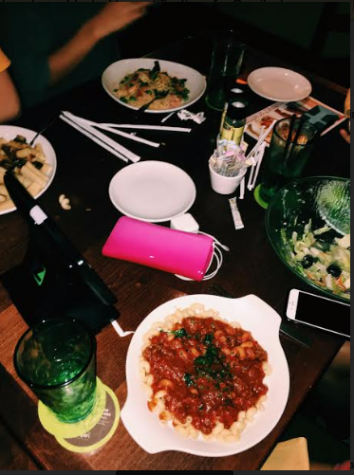 photo credit: Lindsay Calka

Workouts + Conditioning:
A lot of work goes into being the best. Junior Emma Zazzero, has the fastest personal record on the team. She says to prepare during the week usually "there is one hard speed workout day, followed by two recovery three mile run days, then a tempo run on Thursday, with a twenty minute run and strides on Friday."
On Saturday mornings when no race is scheduled, the team does an over-distance workout along a trail.
She shares and laughs that "I went on this very woodsy trail a few years ago. Me, Saragail, Lindsay, Colleen (class of '15) and Greta fell over tree roots one after the other."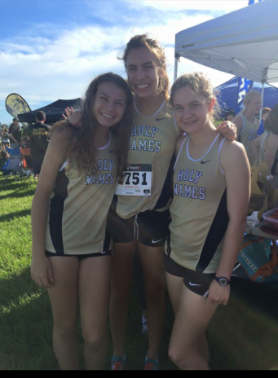 photo credit: Lindsay Calka

Special Team Traditions:
What may seem as an out-of-the ordinary custom for some is a tradition for the cross country team. They LOVE their pre-meet ice baths on Fridays before their Saturday morning meets.
As brutal as an ice bath may sound, Junior Saragail Flynn says it's effective because,"it delays the pain of running so you can run the next meet with no obstacles."
In addition, she says she likes it "because it makes me feel better for the meet to come and it's a great way to bond with the team."