2016 Basketball Season Begins
October 30, 2016
Academy's basketball tryouts were held from 5:30 to 7:30pm on October 24 and from 4:30 to 6:00 on October 25. Each player performed their best as they competed for a spot on the 2016 team. Last season, the varsity team made it to the district semi-finals. The Junior Varsity team successfully finished the season with only one loss. Returning team members from last year are excited to see how far the team goes this year.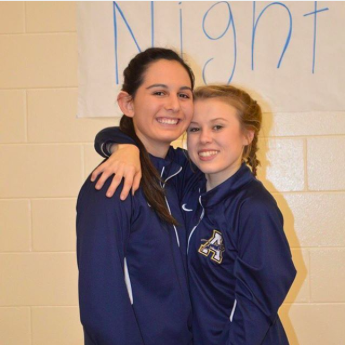 Senior Domenica Howard shares, "I am looking forward to playing against Brooks DeBartolo and Tampa Catholic High School. I am also excited for team bonding this season. We will have a team sleepover and we also recently went to dinner at Kotos."
Last year, Golden Girls had a big turn-out at the TC game. Many girls cheered on the basketball girls as they sat in the Star Wars themed student section. Tampa Catholic and Brooks DeBartolo are the team's biggest rivals.
Junior Mickey Carney exclaims, "I think that our team has improved a lot since last year. We have had pre-season warmups and I cannot wait to see how well we compete this season."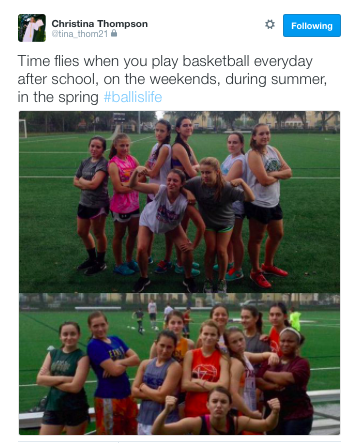 Credit: Christina Thompson (used with permission)
This year's tryouts consisted of timed sprints, scrimmaging, and other general running drills. For scrimmage purposes, the coaches split the upperclassmen and underclassmen into two teams each. The teams rotated playing against each other. 
Junior Varsity coach, Stacy Fillocco comments, "We had a great turnout at tryouts this year. A lot more than we have had the last few years. We had a young group of ten freshman trying out for the JV team so we are looking forward to training and improving this season."
The Jaguars are ready to prove they are talented enough to exceed expectations the year. They open their season on November 14 with an away game against Tampa Prep.  The 2016 team will feature students from all grades, and many of them returning players from last year. This past week, AHN held tryouts and the team rosters are yet to be announced.