AHN Swim Team Honors 12 Seniors
October 20, 2016
On Thursday, October 13, the swim and diving team honored their 12 seniors in a short ceremony during the meet against Spoto High School. This was their last regular season meet of the season. As they do every year, each senior was talked about in a speech by an underclassman, highlighting their special qualities both in and out of the pool. Additionally, each senior received a special towel as a gift from the team to thank them for their dedication.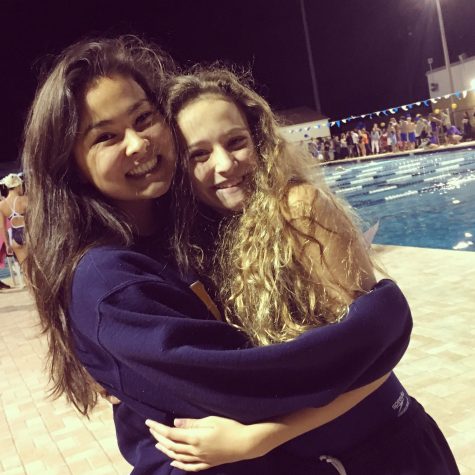 Senior Lara Lontoc states, "Swimming has been a constant in my life since I was eight years old; no matter what  happens or changes, I've always been able to rely on my swim family. The last four years especially have been so special because of all the memories I have made, the people I have met, and the things I have learned. I cannot imagine not having my swim family next year, and they will be what I miss the most."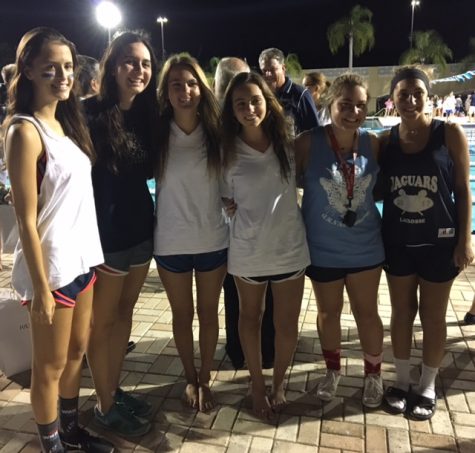 For the first time ever, the seniors on the team got their individual pictures hung around the pool.
Julianne Nichter claims, "In previous years, I was never really sure exactly who the seniors were that year because there was no face association with the posters, but this year everyone knows who the seniors are because of the posters. I even had freshman girls ask to follow me on social media after the speeches, it was a really nice feeling that they knew who I was. "

The seniors also get to pick which events they want to swim in for the meet. In one case, Zoe Cuva, Julia Prince, Kate Scanlan, and Riley Rubio all chose to do a relay together because the four of them had all been on the team together for seven years.
Cuva comments, "Our seven years relay was super fun and positive because we all love each other so much and were just laughing the whole time."
AHN won the meet by a score of 152-23, creating a perfect end to the emotional but special night.