Hunt for the 2016 World Series Begins
October 6, 2016
As of Sunday, October 2, the MLB playoffs were officially set with ten lucky teams making the cut. Because the hometown team, the Tampa Bay Rays, are not in the playoffs this year, some people are not as excited as they normally are about the postseason. 
Regular season: Over.

The #postseason is here – time to write some history. pic.twitter.com/1jhym9V0Ym

— MLB (@MLB) October 2, 2016
Sophomore Greta Dieck comments, "Since the Rays are not in the playoffs this year, I am not going to watch them because I have no interest now."
The first game of the 2016 playoffs was a wild-card matchup between the Baltimore Orioles and the Toronto Blue Jays on Tuesday, October 4. The game was tied at two after nine innings, until Edwin Encarnacion of the Blue Jays blasted a three-run walkoff homerun to win the game 5-2.
TOUCH 'EM ALL EDWIN!!!!! THE @BlueJays ARE ON TO TEXAS!!!! #EDWING pic.twitter.com/C2uSGB5Hs5

— Toronto Blue Jays (@BlueJays) October 5, 2016
The other wild-card matchup came the following day, featuring the New York Mets and the San Francisco Giants. The game was a pitcher's duel, tied at zero until the final inning. In the ninth inning, Conor Gillaspie hit a three-run homerun for the Giants, sending them into the next round.
Even-year magic.
Bumgarner dealing.@SFGiants win NL #WildCard Game with the same insane formula: https://t.co/ZjMpyofaZU pic.twitter.com/zP2YeImUwM

— MLB (@MLB) October 6, 2016
Junior Alyssa LoSauro, a softball player, states, "I have enjoyed watching for the playoffs because every team has tons of talent so it will be interesting to see who will win. I am excited to continue following the playoffs closely."
The playoff race continues on October 6 and 7 with the divisional series round. Each team has to play a five game series to see who will move on to the American and National League championship series. In the American League, the matchups are the the Toronto Blue Jays against the Texas Rangers, and the Boston Red Sox versus the Cleveland Indians. The match-ups in the National League are the Los Angeles Dodgers versus the Washington Nationals, and the San Francisco Giants against the Chicago Cubs.
Time for the DS …#OurMoment vs #NeverEverQuit#WinDanceRepeat vs #RallyTogether#LALovesOctober vs #OnePursuit#BeliEVEN vs #FlyTheW

— MLB (@MLB) October 6, 2016
Zoe Cuva (12) adds, "My family is rooting for the Red Sox to win the World Series. We are Rays fans, but we have also liked the Red Sox ever since we went to a game in Boston at Fenway Park."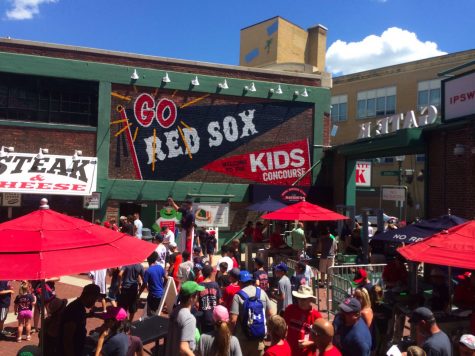 The eight remaining teams are competing for the World Series championship which will begin on Tuesday, October 25. The National League champion will play the American League champion.