Swim Splashes Into The State Series
October 31, 2016
Saturday, October 29, at AHN, the swim and dive team took on districts with a determination to take home another trophy. The team had consecutively won districts for about fifteen years going into the meet, so expectations were high for those swimming in the meet.
Some swimmers are fairly new to the team and were given their first opportunity to compete at districts.
Before the meet, Freshman Sydney Wills shared, "I have been swimming for a really long time, and it was still surprising to see how hard the practices were and how much work it was. I am really nervous, since high school season is really team oriented and districts are a big deal. I really feel like I am swimming for my team rather than for myself."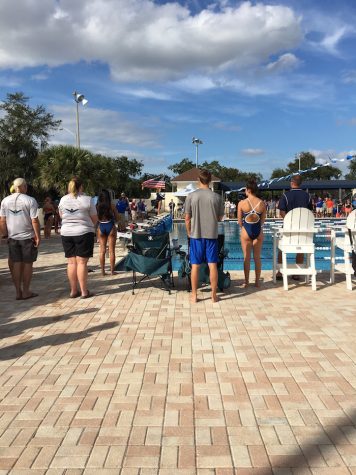 Coach Bill Schaffer selected 22 Academy girls to attend districts this year. These swimmers were picked based off of having the best times for certain events such as freestyle, backstroke, and butterfly.
Junior Maddy Ruppel mentions, "I have been going to districts since my freshman year and this year I am swimming the 100 yard freestyle and 50 yard freestyle. This year has been different from the previous years because I am now an upperclassmen and I have to make sure I come to practice and set a good example for the people younger than me."
Before the meet, the swimmers were tapering to prepare for districts and further competitions. This is when they relax their muscles, doing no physical activities, and do not shave their legs. Many were nervous about districts, hoping that they do well enough during their event to make it to regionals.
Ruppel adds, "I am nervous for districts, but I am also excited to hopefully improve in my races. I have been working really hard this season to prepare for districts and cannot wait to swim!"
After six hours of battling against competitive teams, Academy swimmers were mentally and physically prepared enough to finish districts with a win. Academy's swim team came in first place overall, and many swimmers qualified for regionals. Many are excited to keep their season going, especially the seniors.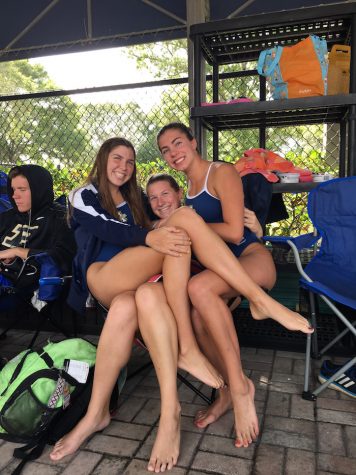 Senior Mary Kate Urbanski exclaims,"We have been really strong this season and unified as a team so I am excited to have won districts and to continue making more memories for my last year."
From the beginning of the season, the swim team has supported and helped Caitlin Cannella, a swimmer battling cancer, through every practice and meet. So this district win was all for their beloved teammate Caitlin.
Junior Gabby Delp remarks ,"This year we have all come together as a team because of Cailin and I feel as though we have more strength than we ever had in years past because of it. Everyone on the team including myself will be swimming with Cailin in the back of our minds."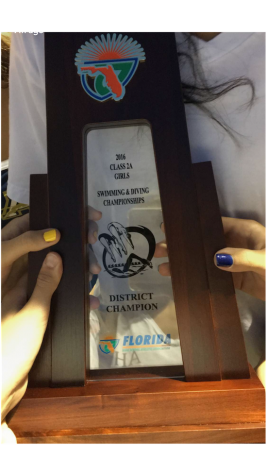 As they do every season, these swimmers put in a lot of hardwork and dedication for this sport. Now Academy's swim team will take on regionals and attempt to  come home as state champions.