Georgia Ruffolo Competes at Golf States
November 4, 2016
On Friday October 28 and Saturday October 29, Ruffolo attended states as an individual player. There were about 130 individuals and 25 teams at states. States was held at Cleveland Heights Golf Course in Lakeland, Florida. The entire team from Academy went to districts and, from there, Ruffolo continued as an individual to regionals and states. Ruffolo was regional champion this year as she placed first overall.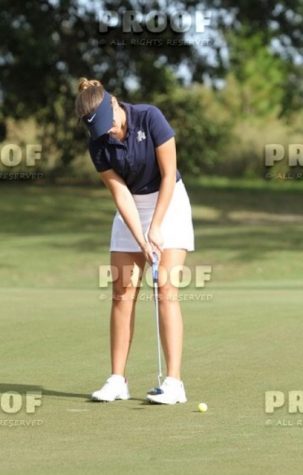 Credit: Georgia Ruffolo (used with permission)
Macy McConnie, one of Georgia's teammates shares, "Georgia is one of the most driven, energetic, and compassionate people I know. I have seen her soar both in her golf career and at school since she was five years old. She is definitely destined to do great things in the future both in and out of Academy!"
Ruffolo claims, "My dad played golf a lot and it was a lot different than other sports so I decided to try it out and it really worked for me. Golf is really strategical, it is like a puzzle and that is why I like it."
This season Ruffolo finished fifth at districts and first at regionals. She had the best scoring average among her teammates throughout the year. Her score in the regional tournament was 71.
Ruffolo shares, "I competed at states this past weekend. It was one of those tournaments where it could have been a lot better but it could have been a lot worse at the same time. I placed around the middle. It is an accomplishment just to go to states as a freshman."
Chris Kumka, a middle school social studies teacher at AHN, coaches the golf team. Kumka has been named Coach of the Year three different years, and has been coaching the AHN golf team for ten years.
Kumka explains, "Georgia has an amazing opportunity to be an extraordinary golfer at Academy. She has all the skills to be a top golfer in the state of Florida. The fact that she is a freshman and can score as low as she does is a testament to her as a golfer."
Ruffolo has done amazing so far in her golfing career and she will work hard to continue to do so in the next three years of her high school career.