AHN Basketball Battles Rival Tampa Catholic
January 18, 2017
The AHN Varsity and JV basketball teams battled against major rival Tampa Catholic on Friday, January 13. Both teams traveled to the Crusader Castle, playing TC for the second time this season. The players were ready to play their challenging opponents at their home territory.
GBB News: 🏀🚨I heard this game could be an upset! Who u rolling w/ Academy of the Holy Names (16-2) or Tampa Catholic (19-1)! @holynamestpa

— BRAZZ Sports (@BRAZZSports) January 13, 2017
The Jaguar's JV team, consisting of two sophomores and nine freshmen, has faced challenging opponents in the past, such as Berkeley and Shorecrest Prep, and playing the Crusaders was no different.
Sophomore and JV Captain Taylor Scott says, "Our team has worked so hard, and we wanted to show TC what we could do. The team has improved tremendously and we all work so well together."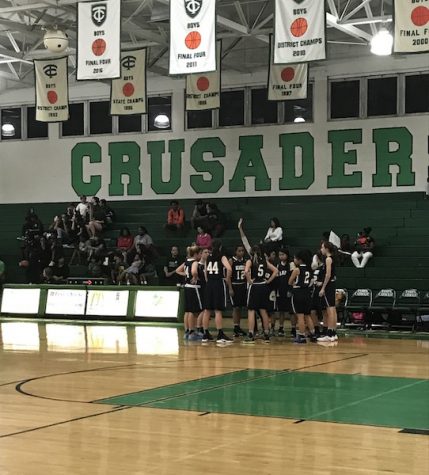 Through a hard fought battle the JV Jaguars ultimately won the game 46-39.
Coach Stacy Filocco says, "We go into most games confident in our system, which is a full-court man-to-man press that capitalizes on turnovers from the other team into fast break points. One of our biggest advantages is our depth- we have 11 players and we work hard on fitness in practice so that in games one of our goals is to run the other team off the court and force them to use their subs."
For the Varsity game, both schools had large student sections cheering on their school's teams. Jag Nation's theme for the game was "Red, White, and Blue" while the Green Locos showed up in a white-out.
need friday night plans? come down to TC for girls basketball v. TC at 7:30! theme is red white and WHO? NOT TC

— JAG NATION (@jagnation_1881) January 13, 2017
Going into the game, Academy's initial game plan was to keep the Crusader's from scoring over 50 points.
Coach Chris Severini says, "We prepared by going over everything we knew about our opponent and each of their players. We used that information to come up with our game plan and we executed it every day in practice."
Towards the beginning, the game was close, but TC power forward Ashley Sieper's quick six points in the first half kept the Crusaders in the lead.
The score at halftime was 23-14 with the Jaguars trailing by nine points. Although they were down, AHN was still in this game.
Two Academy players who were essential in the match were Juniors Mickey Carney, who finished with ten points and eight rebounds, and Lindsey Perez, with 13 points.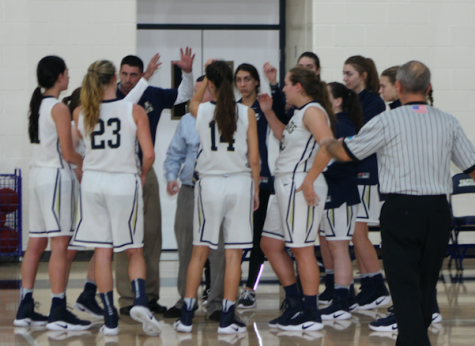 Perez says, "Our team knows what each individual player on the other team does during the game and we try to find a way to stop them from executing their strengths."
With only a few minutes left in the 4th quarter, AHN was able to cut Tampa Catholic's lead to just four points. Unfortunately, that was not enough, and the Crusaders won the game 48-40, but the Jaguars did not leave the court with their heads down. The team was proud of the way they played and are prepared to potentially face the Crusaders again in the postseason.
Severini says, "I learned a lot about both teams. Most importantly, I learned about how good our team can be against what is publically considered the best team that our region has to offer."
AHN's next major game will be in the postseason against Brooks DeBartolo Collegiate High School in the District semifinals. The Jaguars will face the Phoenix for the third time this year.