HOA: Sophia Mastro Shares her Secret to a Healthy Lifestyle
January 25, 2017
While many high school girls often time dread working out, senior Sophia Mastro uses working out as a way to bond with her family, and as stress relief. Mastro was the lacrosse captain last year, and is looking forward to continuing to lead her team this season.
Achona: Why do you find it so important to workout?
Sophia Mastro: Workouts are a top priority in my daily agenda. I think it's very important to challenge your body and keep your mind sharp. Working out has significant effects on my physical and mental health. Building and strengthening my muscles helps me prevent injuries on the lacrosse field. Also I think I'm kind of addicted to the rush of adrenaline and the feeling of sore muscles.
A: What is your basic every day workout?
SM: I have a weekly routine of lifting workouts that changes about every 8 weeks. I usually come home and work out in my gym between school and lacrosse practice. I lift five days a week and usually dedicate one day to strictly lacrosse and one day to rest. Currently, I do upper body on Monday and Thursday, lower body on Tuesday and Friday, and full body workout on Saturday.
A: Any advice for other students trying to get in shape or eat healthy?
SM: Eating healthy and being active will makes you feel more energized throughout the day and helps you carry yourself more confidently. Make time in your schedule to work out, it is the best stress reliever and helps you work out any emotions you are experiencing during the day. Most girls only like to do cardio, but make sure you incorporate lifting into your workout. Lifting is really important for your muscles because as you age your muscles experience atrophy (lose muscle mass).
A: How has working out helps you bond with your family?
SM: A couple of years ago my family transformed our three car garage into a home gym, known as "Mastro Muscle". The gym continues evolving through the years as we add on new equipment. We have a huge banner hanging in the gym that says, "Mastro Muscle: Where champions are made and legends are born". Mastro Muscle is a sacred place of blood (sometimes), sweat, and gains. It has become a place of bonding for our family and many of our friends. During the summer and holidays the gym is filled to it's full capacity. Every morning me, my brother, dad, and some of our friends work out together. One of us writes the workout of the day on the board and we all do it together. We push each other to our max. There are no limitations in Mastro Muscle. During the school year, now that my brother and his friends are away at college the gym is not as busy. However, my dad and I still work out together everyday after school. It is nice to share something with my family that we all value, It allows us to spend a lot of quality time together.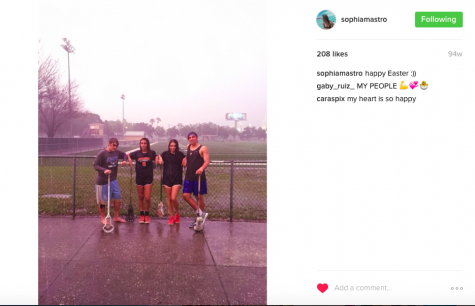 A: How did you become interested in lacrosse?
SM: My brother began playing lacrosse at Academy in middle school and now plays Division 1 lacrosse in college. My cousin is also going to college to play lacrosse, and my uncle coaches girls lacrosse at Tampa Catholic High School. I never wanted to play lacrosse because my family was so involved in the sport and I did not want the pressure of my family's expectations. However, when Academy announced they were getting a high school lacrosse team I decided to give it a shot. I am so happy I started playing because I love it so much and my brother and I have bonded so much through the sport.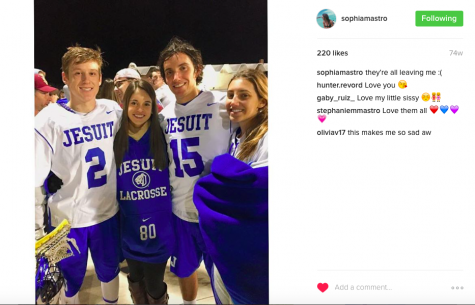 A: What are you excited for this lacrosse season?
SM: I am super excited to be a kick butt team this season. We have a small team with a lot of talent and quality. I think we will have a chance to go far this season and really build a good reputation for ourselves.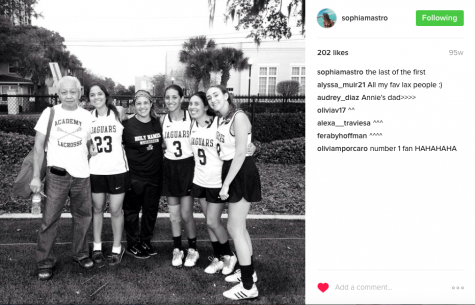 A: What are you going to miss most about Academy?
SM: This year I tried to get to know everyone in my grade better and I'm really going to miss all my sisters. It's such a tight knitted community and I think I will miss the feeling of my school being like my family when I go away to college next year.