Soccer Senior Night
January 10, 2017
On January 6, Academy soccer honored their four hard-working seniors with the annual senior night. This year's seniors are Ellie Abdoney #16 (defender), Julia Petrillo#24 (defender), Hannah Menendez #6 (mid-fielder), and Kendall Catone #99 (goalie). These seniors have helped lead the team to be ranked twelfth in the state and thirty-eighth overall in the nation. Soccer also holds the number one seed since they are currently 5-0 in their district.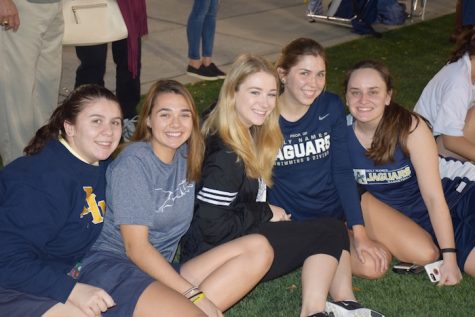 For senior night their opponent was St. Pete Catholic, and the girls were prepared to add a win to their long-list of accomplishments. After warm ups, the team huddled together under the scoreboard to discuss preparations for the game and the senior's ceremony.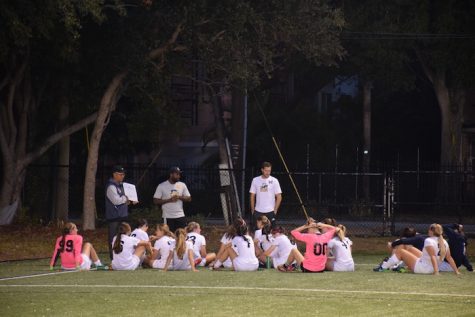 Each senior from the opposing team was given a rose to honor them for their last year. Then, each Academy senior walked out towards the center of the field with their family members, receiving flowers and gifts. The gifts contained a picture frame with their team picture and necklaces that had the coordinates of Academy.
Menendez says, "The gifts were so thoughtful and after hearing my speech, I realized how much I am going to miss being part of this team. I have made so many memories with them and they have helped me become the player I am today."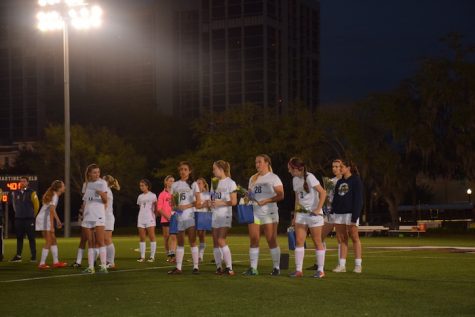 This night was a happy celebration to experience, but for the players who read speeches for each senior, it was an emotional evening.
Abdoney says, "My sister did a great job with her speech. I am so lucky to have her as a sister and bestfriend. I will miss her a lot next year."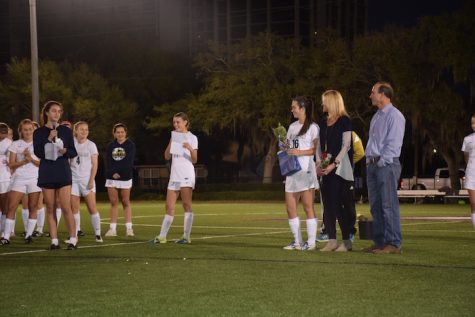 After the speeches finished, soccer quickly brought their attention to their coach and were ready to begin the game.
Petrillo says, "As soon as we gathered to our benches I mentally prepared myself to focus on the game plan. In order to make this night great, we needed to add another win to our record."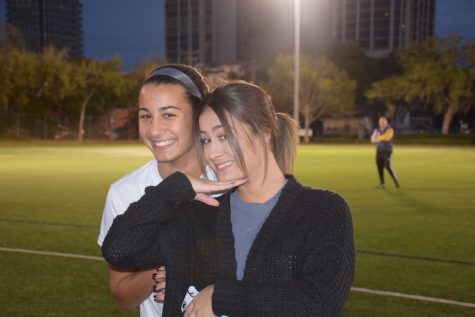 The game was full of action and intensity, which led the girls to another successful win. Soccer finished the victory against St. Pete Catholic with a score of 7-0. This team still has a few more game left in their season, and they hope to continue their success all the way to states.