AHN Soccer Returns to States
February 15, 2017
For the second straight year, Academy soccer has made it to the state semi-final game. Last year, the team lost to Bolle's High School 2-1, ending their historic season where they won the first ever district and regional championship win school history. This year, after a regional final victory against Clewiston by a score of 2-1, the Jaguars earned a trip to Oxbridge Academy to battle for a spot in the state championship game.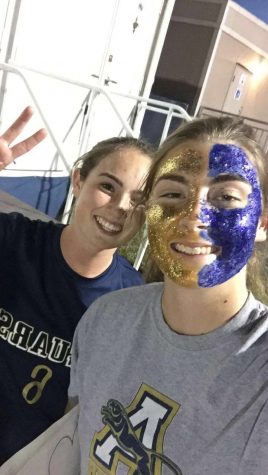 Senior Hannah Menendez said prior to the game, "Last year was our team's first appearance in states, so we had no idea what it would be like. Fortunately, this year we have experience and we know what to expect, so that will help us to be more prepared.
To celebrate the success of the soccer team, administration allowed for a bus to take some students to the game to support the team. The bus left at 2:30 p.m. and arrived at the game around 6:30. The girls showed their support for the team by putting blue and gold paint and glitter on their faces.
Junior Lindsey Perez says, "I was so excited when I heard that they were doing a school bus because it makes the games so much more fun when we are all cheering together. I have been to many soccer games this season, and I was excited to be able to go to their biggest one."
From the start, the game was an evenly-matched, defensive battle. While both teams had a few opportunities, neither team managed to score a goal throughout the entire period of regulation.
Junior Mickey Carney says, "The game was very intense the entire time because both teams were playing amazing defense. Everyone in the stands just had the feeling that the first team to score would win."
Since neither team managed to score in regulation, the game went into a ten minute overtime period. With around three minutes left in overtime, goalkeeper Kendall Catone made an impressive save on a hard-kicked ball by batting it above the goal. Because the ball was knocked above the goal, Oxbridge was awarded a corner kick. It initially looked like the Jaguars made a save off the corner kick, however, the referees ruled that the ball had crossed the line and Oxbridge had scored. Since overtime is sudden-death, Oxbridge won the game and advanced to the state championship.
Senior Ellie Abdoney says, "I was really happy with our run, but I definitely feel like we could have made it to the finals. I was so certain that we were going to win that game. It is really sad that I will not see my team everyday at practice anymore because they have become my best friends."