Soccer Advances to Regional Finals
February 2, 2017
On January 31, the AHN soccer team earned their second straight trip to the regional finals by defeating Berkeley Preparatory 2-1. This was the third time that Academy beat Berkeley this season, and each game had the same score.
Senior Ellie Abdoney said, "I was very nervous before the game because it is always such a close game when we play them. I did not want my soccer career to be over it, so that gave me extra motivation."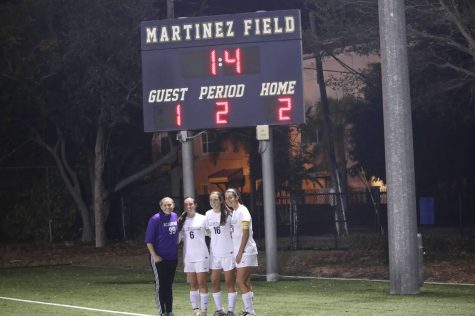 To make it to the regional semifinals, Academy first won the district championship against Berkeley and then defeated Frostproof 6-0 in the regional quarterfinal.
Junior Hailey Eckermann said, "Beating Frostproof by a lot gave our team a lot of confidence going into the Berkeley game."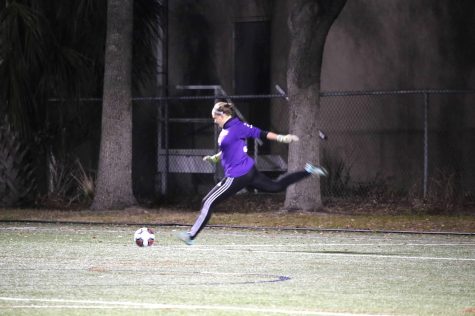 This set up the Jaguars rematch with Berkeley. The Buccaneers struck first in the game, scoring on a corner kick. A few minutes later, Senior Hannah Menendez answered, tying the game at one going into halftime. Senior Claire Obeck broke the tie in the second half when she scored on a rebounded shot. Berkeley had one last shot to tie the game with under a minute left, but Senior goalkeeper Kendall Catone made a nice save to secure the win and a berth in the regional final.
Region soccer: Holy Names 2, Berkeley Prep 1 https://t.co/hpq5zQdINM @holynamestpa @BPS_Athletics

— Tampa Bay HomeTeam (@TBHomeTeam) February 1, 2017
The Jaguars continued their celebration into the next morning as two players, Menendez and Petrillo, signed to the University of North Florida and the University of Connecticut respectively.
soccer region finals @ home @ 7 on Friday! be there to cheer our girls on their road to states⚽️🏆

— JAG NATION (@jagnation_1881) February 1, 2017
AHN will host Clewiston in the regional final at 7 p.m. on Friday, February 3. A win will advance them to states for the second straight year. Last year, the team lost in the state semifinals, but this year the team's goal is to make it even further.