Winter Sport Athletes Honored at Banquet
February 27, 2017
On Thursday, February 16, the members of the soccer, basketball, and dance teams celebrated their respective seasons at the winter sports banquet. The night started with a few words from the athletic director, Kevin Vargas, about each team's accomplishments during their seasons. Parents, athletes, and coaches then had time to enjoy catering from Carrabba's. After dinner, Dr. Saioa Torrealday was inducted into the Athletic Hall of Fame.
Torrealday was team captain of the basketball team that played in back-to-back state championships. She had a 121-11 career record and was a member of the 1996 State Basketball Championship Team. She currently ranks number 18 on the all-time Hillsborough County scoring list and third in AHN scoring history with 1,875 points.
Assistant Athletic Director and Head Varsity Basketball Coach Chris Severini says, "When you look back on her accomplishments as a student-athlete here and listen to what she has done with her life after high school, it is easy to see why she deserves to be part of the Hall of Fame."
After her speech, each team went into separate rooms to discuss their respective seasons and give out awards. Additionally, JV players earned medals and Varsity players earned pins for their letters.
The basketball team went to the Media Center. The JV and Varsity head coaches each spoke shortly about their team's accomplishments. The JV team finished with a record of 8-3 and the Varsity team finished with a record of 23-4 including two regular season victories against district foe Brooks deBartolo. After handing out awards, the four seniors gave a short speech thanking everyone who has supported and helped them during their four years playing. They also handed out gifts to their two coaches which included a gift card, candy, and a scrapbook.
Freshman Varsity basketball member Sam Miller says, "I loved how our team had a laid-back atmosphere and just laughed at all the great memories that we made. It was a great way to end the season."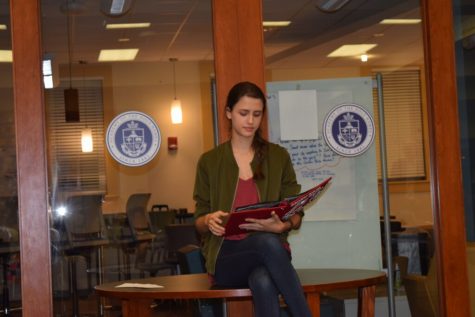 The soccer team stayed in the Brady Center. Their head coach, Kareem Escayg, was unable to make it to the banquet so the team's assistant coach, Tom Villa, read his notes to the team about how much he enjoyed coaching them this season. The JV team went 8-1 and the varsity team experienced lots of success this year including a district and regional championship. The entire team received picture frames of the team and water bottles for an end of the season gift. In addition, the seniors got AHN blankets.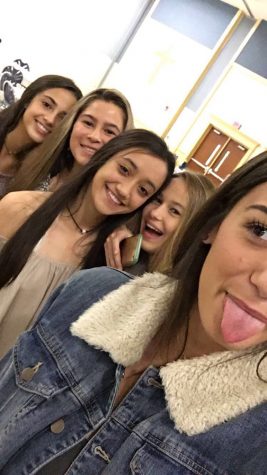 The dance team went to the iLab where they discussed their many performances and competitions over the year. They mostly focused on their most recent competition at Disney. Their team captains, Ally Wehle and Sarah Ercia, handed out the pins to the rest of their team.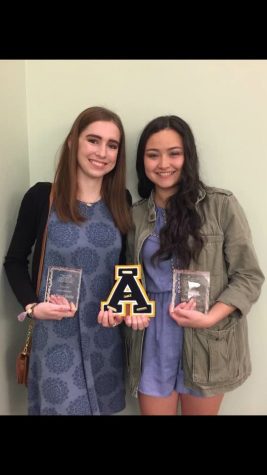 The following athletes were recognized for their special accomplishments in their respective sport:
JV Basketball
Most Valuable Player: Danielle Brennan
Coach's Award: Sarah Torres
Varsity Basketball
Heart & Hustle Award: Alyssa Muir
Most Dependable Player: Lindsey Perez
Clutch Performer: Domenica Howard
Coach's Award: Devin Folkman
Most Valuable Player: Mickey Carney
JV Soccer
Coach's Award: Audrey Boos
Most Valuable Player: Francesca Ferreri
Varsity Soccer
Coach's Award: Ellie Abdoney
Beast Award: Blakely Byrd
Offensive MVP: Hannah Menendez
Defensive MVP: Julia Petrillo
Jaguarettes
Leadership Award: Allison Wehle
Leadership Award: Sarah Ercia