AHN Seniors Defeat Juniors in Powderpuff Game
March 30, 2017
On Tuesday, March 21, the Seniors and Juniors competed in the annual powderpuff game at 6:00 p.m on the AHN soccer field. As always, the Dad's Club grilled out hot dogs and hamburgers for players, parents, and spectators to enjoy. The Seniors won the game 8-0, making it many years since a Junior team has beaten the Seniors.
The night began with a performance by the quarter notes of The National Anthem. Then, the teams took the field to warm up before the game began.
During the first half, both teams played good defense with neither team able to drive the ball much. However, Skylar Martinez scored on a rushing play to give the Seniors a 6-0 lead. The Seniors then opted to go for a two point conversion instead of one, so they took the risk of trying to score from a further distance. The risk paid off as Martinez ran the ball in, and the Seniors took an 8-0 lead into halftime.
Martinez says, "I was really happy that I was able to score the one touchdown of the game and help the Seniors win again."
At halftime, the Jaguarettes performed a dance on the field, choreographed by the Junior dancers like it is every year.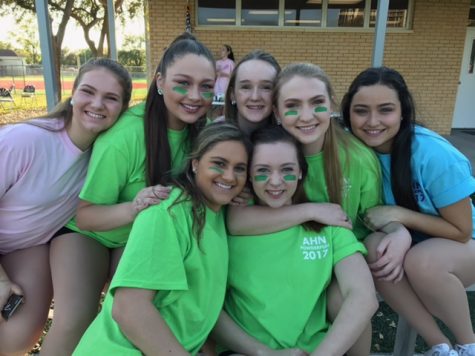 During the second half, both teams again displayed great defense as neither was able to score. The Juniors had their last chance as the clock was ticking down but they were stopped on fourth down just before the first down marker at midfield, signaling a eight to nothing win for the Seniors.
Junior Maddy Ruppel says "I really liked that our whole grade got together and played on a team for something none of us were really good at and we could just focus on having fun."