AHN Tennis Defeats Clearwater Central Catholic
March 21, 2017
On Tuesday, March 7, Academy's tennis team played Clearwater Central Catholic High School. After losing several players last year, the team has not experienced the same success that they have in previous years. This match brought back the familiar feeling of the win for the team.
Tennis, being an individual sport, works differently than many team sports. The players are seeded one through 12 and the top five are considered starters and play singles every match. In addition to the five singles matches, there are two doubles matches. Each match counts for one point in the overall score. That being said, Academy defeated CCC 6-1 winning all of the singles matches and one of the doubles matches.
First seed and seventh grader Abby Neal was the first girl off the court. The match was an easy victory for Neal, who trains five days a week and plays USTA tournaments on the weekends.
Neal won her match 6-0, 6-0 and says, "I felt confident in how I was playing."
As far as strategy goes she says, "I usually just hit good balls and move it around the court."
Sophomore Lauren Harris had the longest fight for the win. Harris, the third seed, was not phased after she lost the first set. She continued to fight and came out victorious after a long two-hour match. The final score was 4-6, 6-2, 10-4 and Harris won in a tie-break.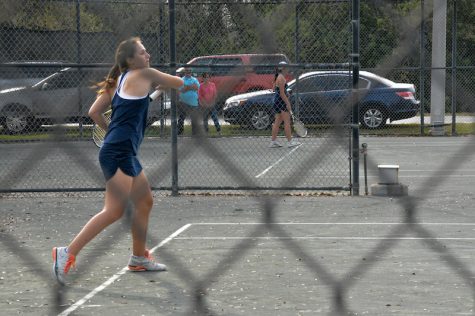 Harris says, "It felt great to finally win. The first set was rough and the girl I played was a good player too. But I never gave up and fought to win. I was very pleased that I was able to pull out the win in the end."
Other starters include Senior Anna Padron, and Sophomores Brooke Breeze, and Caitlin Asher. All three girls won their matches and played a large part in the team's overall win. In order accomplish their goal of winning, the team needed to get four wins, essentially a race to four.
The win was a product of a lot of hard work on the team's part.
Sophomore Brooke Breeze says, "I think that it [the win] reflects how much hard work we have been putting in and how well we all are able to work as a team."