AHNRC Travels South for the Miami International Regatta
March 29, 2017
On March 24, the Academy of the Holy Names Rowing Club (AHNRC) travelled to the hot, feisty, and diverse city of Miami for the Miami International Regatta. Hosted by Miami Rowing Club, the regatta has celebrated 44 years in existence and is raced in the small island town of Key Biscayne. Although high wind speeds and strong currents persisted throughout the weekend, the team enjoyed experiencing the culture of the well-renowned city of Miami throughout their stay.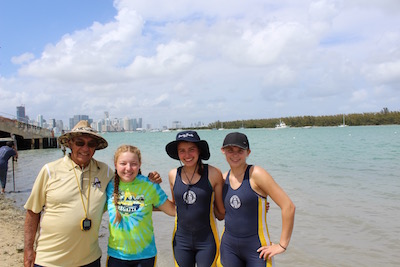 Along with the other races throughout the day, the Academy girls' high school lightweight 4+ boat suffered rough weather conditions. In the middle of their race, a team that was affected by the strong wind and current rowed into Academy's lane and collided with the boat. Due to this interference, a couple of the rowers in the Academy 4+ had to stop rowing, which caused the boat to lose their potential gold medal. Unable to settle for fourth place when there was an unfair disadvantage, coxswain Abbey Bennett and rower Charlotte Carl protested the club that impeded their success and that club was disqualified from the race.
Junior and lightweight coxswain Abbey Bennett says, regarding the situation, "By the end of the race my heart was pounding and all I wanted to do was give my boat the place they deserved."
Juniors Ashley Anderson, Mickey Carney, and Catie Moffett and sophomore Sydney Lowman impressed the team, as well as themselves, at the regatta and took home two gold medals from the girls high school 4x and girls high school 4+ races.
Junior Mickey Carney says of her thrilling experience, "It was the best feeling ever. [The 4x race] was the first race we have won all season, so it was a special race to win in preparation for states and, hopefully, nationals."
Here are the other results from all of the entries at the Miami International Regatta. The team as a whole celebrated one gold, one silver, and three bronze medals, totaling in five medals for the Academy crew team.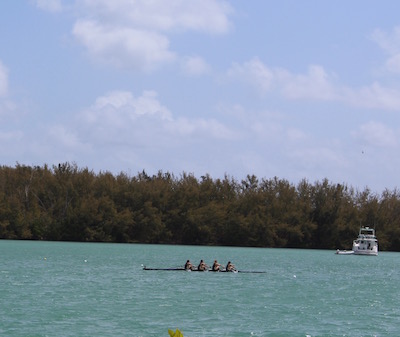 Abby Morris, 12, says, "I had a blast at the Miami regatta and I think the rest of the team agrees! The water was absolutely beautiful and the weather was nice, so rowing was made more enjoyable. The best part in my opinion was rowing in an 8 with a bunch of my friends. It was our third race of the day so we didn't have to take it too seriously. We had a lot of fun and enjoyed the Miami sights, ending the regatta as the last race."
The crew team competes next in Sarasota on April 1 for the 2017 FSRA West District Championships.