Crew Wins First Place in the First Regatta of the Season
March 7, 2017
On Saturday, February 25 the Academy crew team came together at Nathan Benderson Park in Sarasota and rowed their first regatta of their 2017 season. As a team, they felt they did well overall for their first race of the season and hope to continue to grow together. The lightweight boat won first place, the junior boats won second and third, and novice won fourth place in the race.
Junior Catherine Moffett says, "The first official regatta of the season was this past weekend in Sarasota. The races at the beginning of the day were delayed for a hour because of the fog. Despite the delays, we had four boats medal. All and all, it was a good racing day."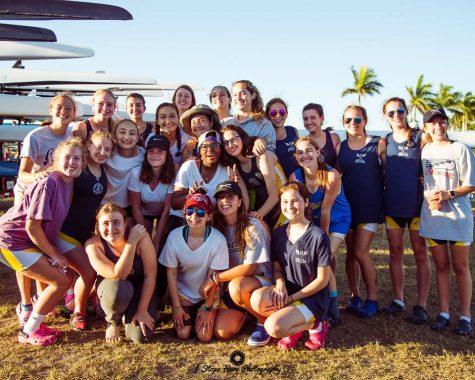 The crew team felt this race helped them prepare for their competition for the rest of the year. By starting off with four of their boats titling, the team now has motivation for the rest of their season.
Senior Gabbie Ragano says, "This regatta taught us a lot about our team and how we match up against other crews and we had a lot of fun. Our lightweight boat won which was great and very exciting for our team."
Although many of the girls on the team have already raced in regattas, the team has added 11 freshman to the crew this year who recently experienced their first regatta.
Freshman Tress Jacobs says, "My first regatta was everything I was hoping for and a bit more. I enjoyed spending the day supporting and being there for my teammates even if we did not come out victors. All in all, it was a fantastic experience and I cannot wait until next time."
The lightweight boat included: Isabella Thorpe, Claire Sauter, Charlotte Carl, Emma Heston, and Audrey Anello as coxswain.
Junior Emma Heston says, "It was very rewarding for all of our hard work to pay off. This regatta helped us see what our competition will be like for the rest of this season. We also got to fulfill the tradition of throwing the coxswain of the winning boat in the regatta."