March Madness 2017 Sweeps the Nation
March 30, 2017
Tuesday, March 14 marked the first day of the biggest event in college basketball: March Madness. This three-week long tournament showcases the top 68 Division I basketball teams in the country in a single-elimination competition to decide the national champion. Currently, the final four teams left in the tournament are University of South Carolina, Gonzaga University, University of Kentucky, and University of North Carolina.
The #FinalFour pic.twitter.com/vuT5ul4TNp

— NCAA March Madness (@marchmadness) March 26, 2017
Every year, about 40 million people fill out brackets predicting who they believe will win the national championship. No person in the world has ever correctly predicted the results of every single game of the tournament. Of these 40 million include a group of students from the class of 2017. For the second year in a row, the seniors created a tournament challenge group to see whose predictions would be the most accurate. So far, only three girls' championship predictions can come true with those girls anticipating North Carolina to win it all.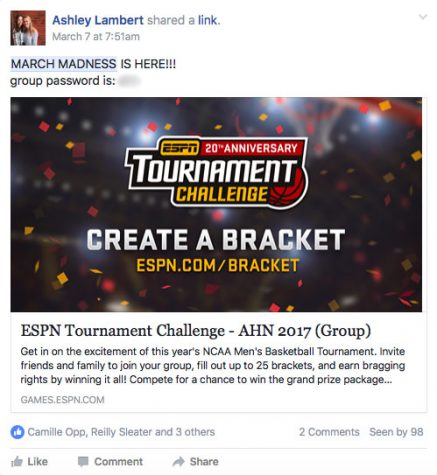 So far in the tournament, there have been incredible moments and some big upsets. One of the biggest upsets was number two seed Duke losing to number seven seed South Carolina in the second round, 88-81.
Senior Megan Przedpelski, who plans on attending South Carolina in the fall, says, "I have been watching all the games so far and I was probably the only person in the world who put them as beating Duke in my bracket. Them getting this far makes me so much more excited to go there next year."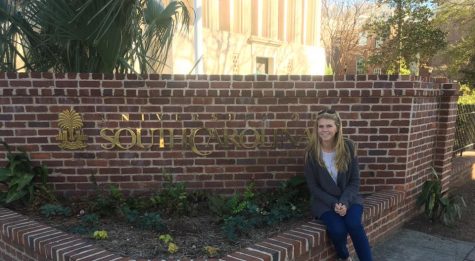 One of the best moments of the tournament was University of Florida's buzzer beater three-point shot in overtime against University of Wisconsin with four seconds left. This incredible play ended Wisconsin's season and sent the Gators to the Elite Eight.
We looked up the meaning of the word "boss."
We found this video. pic.twitter.com/Yjd2MJJrKy

— CBS Sports (@CBSSports) March 25, 2017
In the Final Four, South Carolina will face Gonzaga, while North Carolina will compete against University of Oregon. The semi-finals will take place Saturday, April 1 and the two teams that advance will play in the championship game on Monday, April 3.