Crew Seniors Honored at Senior Day
April 7, 2017
On Saturday April 1, six seniors on the crew team were recognized for their hard work over the past four years. After a long day at their regatta, the seniors were surprised with a decorated tent, medals, presents, and a cake. Five underclassmen gave speeches describing how much the seniors have meant to them followed by head coach, Jorge Rodriguez, giving a few of his own words about the seniors.
The six seniors recognized were one coxswain, Audrey Anello, and five rowers, Nicole Browne, Domenica Howard, Keri Kelly, Abby Morris, and Gabbie Ragano.
happy senior regatta to the class of 2017 crew team! we are so proud of everything you've accomplished🎓❤️🚣‍♀️ pic.twitter.com/oG6dxrpfli

— JAG NATION (@jagnation_1881) April 1, 2017
At the regatta, Browne, Ragano, Kelly, Morris and Anello, as coxswain, came in third place, losing against only club teams, which bodes well for sweeping states in the next few weeks.
Four-year rower Morris reflects on these past few years saying, "Being on crew these last four years has changed my life. It taught me how to take up more responsibility and complete everything in life to the best of my ability. It instilled a level of confidence and pride within me that will never go away, not to mention all the friends I have made throughout the years."
One of the most notable moments in the past four years is when a boat consisting of Kelly, Morris, Ragano, Ashley Achin, and coxswain Anello won first place in States their freshman year, beating their biggest rival, the Sarasota Scullers, by 0.02 seconds.
Anello says, "We have a banner in the gym now and it's an amazing reminder of the hard work that paid off that day."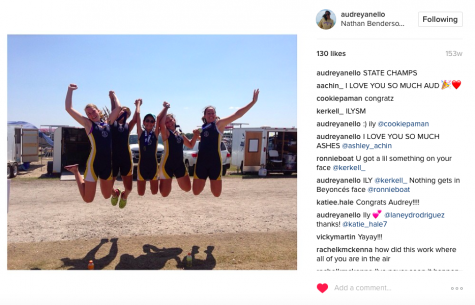 The group of seniors have two more regattas left until their season comes to a final close.
Ragano says, "I am going to miss my team so much, more than they realize. Practices are hard and painful, but that's where you make the best of friendships. I am also going to miss just having a group of people that I can turn to and complain with and celebrate with. It is going to be really weird to not have them supporting me all the time next year."