Academy Crew Team Competes at Sweeping States Championship
May 4, 2017
The 2017 FSRA Sweeping States took place at Nathan Benderson Park in Sarasota from April 29 through April 30. Although the competition did not begin until that Saturday morning, AHNRC arrived to the regatta site on Friday afternoon with drive and ambition, ready to tackle the obstacles the races may throw at them later in the weekend. AHNRC entered five boats for Sweeping States, including a Varsity 4+, Freshman 4+, Junior 4+, Lightweight 4+, and a Lightweight 8+. Throughout the weekend, high temperatures of 94 degrees persisted which exhausted the rowers who had to stay at Nathan Benderson Park from 6:30 a.m. to 6:00 p.m. With strong mentalities, these athletes were able to persevere and qualify two boats for the SRAA National Championships Regatta.
At States, every boat races once in heats on Saturday; if a boat does not place first or second in its heat race, it must race again later that same day for repechages. A repechage is a contest where boats that did not advance to finals in heat races compete for first or second in hopes of acquiring a lane for finals; meanwhile, those who do not place first or second in repechages move on to petite finals.
Before racing and winning in her repechages (reps), sophomore Charlotte Carl says, "I am really excited for our race and I think we have the potential to do well. I have had such a good time in this (4+) and I think that anything that we do is going to be fun and well-done. Whatever happens, I am positive that it will be the time of our lives and that we will put 100% effort into this entire race piece."
On Sunday, the Junior 4+ claimed the scholastic champion title and won second overall in their finals. As rowers Ashley Anderson, Mickey Carney, Sydney Loweman, Catie Moffett and coxswain Abbey Bennett rowed to the victory docks to receive their trophy and medals, the entire Academy crew team was found by the finish line, ecstatic and extremely proud of the Junior boat's job well-done.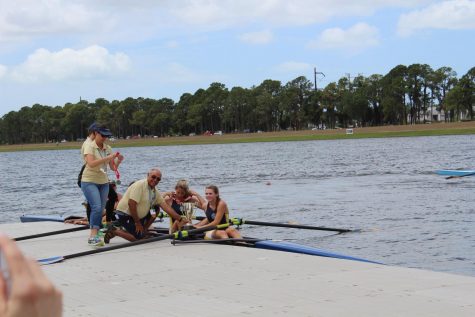 Sweeping States was also monumental because it was the final regatta for the senior rowers: Audrey Anello, Nicole Browne, Keri Kelly, Abby Morris, and Gabbie Ragano. Together, these rowers have attained seven states titles. These well-accomplished and celebrated seniors remained well-spirited and nostalgic as their Academy rowing careers finally crossed the finish line.
Going into her final race as one of the five seniors who has completed eight seasons of crew, Editor-In-Chief Nicole Browne says, "It seems very surreal and it has not hit me yet; I cannot accept it right now. Since this is going to be my last race ever, I am going to put everything I have into this. It's going to hurt so badly, but I want to go out with a bang and I know we will try our hardest while maintaining a strong mentality."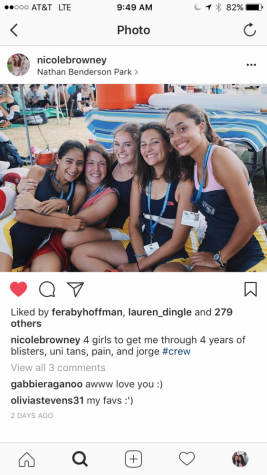 To move forward in the season and qualify for nationals, boats must place top three scholastically. For the 2016-2017 year, the Academy Junior 4+ and the Lightweight 4+ were able to beat the other schools at Sweeping States and have, therefore, gained the opportunity to elongate their season and compete at Nationals in New Jersey towards the end of May.