AHN Athletes Respond to Kneeling in Sports
October 6, 2017
In recent football games, NFL players have knelt on one knee during the National Anthem; the action has grown become a protest of President Donald Trump's racially insensitive comments and multiple remarks about the mannerisms of the players. Trump has openly disagreed with the protest and stated numerous times that, as a sign of respect, the players should stand during the Star-Spangled Banner. 
The protests started last season when Colin Kaepernick, a former San Francisco 49ers quarterback, took a knee during the anthem to raise awareness about social injustices. Other NFL teams followed suit, including the New Orlean Saints, whose team members took a knee before the national anthem but stood for the song itself. The Ravens players who took a knee before the anthem were booed by their fans, and Titans player, Rishard Matthews, stayed in the locker room rather than stand with his teammates. Many more teams followed this movement, and all received different reactions from their fans.
49ers form two rows of players kneeling & standing during the National Anthem #SFvsAZ pic.twitter.com/9lWLOxKzDq

— Fanatics View (@fanaticsview) October 1, 2017
Some Academy athletes disagree with NFL players taking a knee and think the protests insult members of the U.S. military.
Lacrosse player, Mia Lopez ('18) said, "I think that it is disrespectful and I think that everyone should be standing during the national anthem to honor those who fight for our freedom."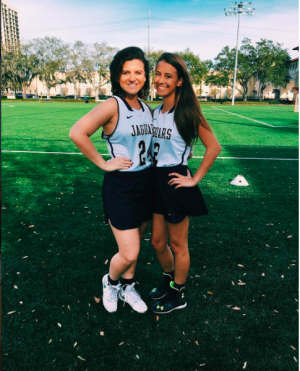 Soccer player Blakely Byrd ('19) said, "I think it's extremely disrespectful to all the people that fight in war for us. They [those who are kneeling] can't even respect them [those who are in the military] by having their hand over their chest for 60 seconds. It's not just rebelling against our country; it's also disrespecting people who serve in the military."
However, some athletes agree that people should be able to choose whether or not they want to kneel or stand.
Track runner Erica Dierks ('18) said, "I think that they should choose, because as long as they are acknowledging that it is playing and they are being respectful, kneeling or standing doesn't matter that much. Like in mass, you can kneel or stand when you want to you, can choose which you want to do, you are still acknowledging respect; you're just choosing which way you want to do it."
Volleyball player Megan Scanlan ('19) says, "People have the right to choose what they want to do."