HOA: Olivia Mortellaro and Camryn McClendon Play for Varsity Volleyball as Freshmen
October 26, 2017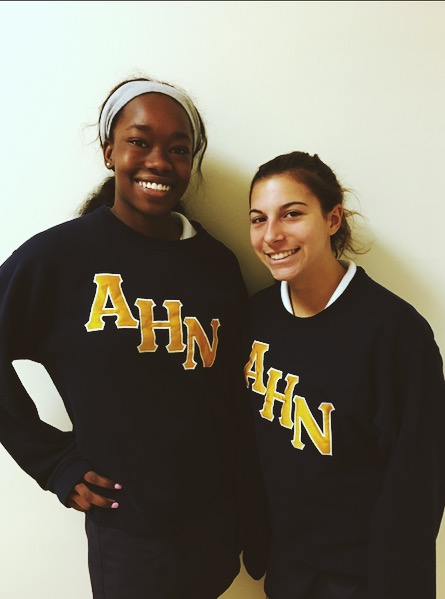 Although very rarely does a freshman fill a coveted spot on an AHN varsity team, this year's Varsity Volleyball team had not only one, but three freshman players, Olivia Mortellaro, Camryn McClendon, and Alison Perez.
Senior, Gillian Garcia ('18) said, "For me it was really special having Olivia on the team with me because we went to the same school together, and basically grew up together. Olivia actually wrote my senior speech too, as well. With Olivia and Cam, we also played at the same Volleyball club, and having a chance to play with them on the court, on the same team was really amazing."
Achona caught up with two of these superstars, Mortellaro ('21) and McClendon ('21),  to get their take on this extraordinary opportunity.
https://www.facebook.com/SpectrumSports360/videos/10155487824721131/?hc_ref=ARTdCesafJLTac7iGRE7T3dhHr270nKaUMQfCPeeDRUYCh1H36jiuG3R9yUZdsdp7l8
ACHONA: Was it intimidating being the youngest on the team, and did you face any difficulties bonding with the upperclassmen?
Olivia: "I was scared and intimated at the beginning of the season, but by the end, I had felt like I had been a part of the team for a while. The upperclassmen were so welcoming and always included Cam and I both."
Camryn: "Being the youngest on the team was pretty nerve wracking at first. I was super scared playing with upperclassmen, but once I got over that it was amazing, I had such a great time getting to know them and become friends with them.I I didn't face any difficulties bonding with the upperclassmen they were all super nice and welcoming and made me feel way better about being on varsity with them."
A: What is your favorite memory from your first year on the team?
O: "My favorite memory would have to be going to Scream-A-Geddon as a team. After going, I felt so much closer and I felt like I had really bonded with them."
C: "My favorite memory would have to be when we went to Scream-A-Geddon as a team, it was so much fun getting to hang with them and just have a ton of fun."
A: I know it's quite far away, but what are you most excited about for next season?
O: "I cannot wait to be a part of team and play with the upperclassmen again next season!"
C: "Unfortunately I will not be returning to play next year, but I definitely look forward to seeing how the team does next season and I wish them best of luck."
A: Do you aspire to continue your volleyball career after high school?
O: "Sadly, I do not think I will want to play after high school because I want to focus on my career and school and have a college experience, but who knows. That is still far away."
C:  "No, I don't aspire to play volleyball after high school I love volleyball, but I want to focus on other things in college."