Tampa Bay Lightning Win Season Opener
October 13, 2017
On Oct. 6, 2017 the Tampa Bay Lightning celebrated both their 25th Anniversary and their season opener game. The Lightning played the Florida Panthers, who are based in Miami, at the Amalie Arena-the Tampa Bay Lightning's home rink. The game went underway when the National Anthem began playing, Sonya Bryson began singing, and the teams participated in the annual celebratory puck drop.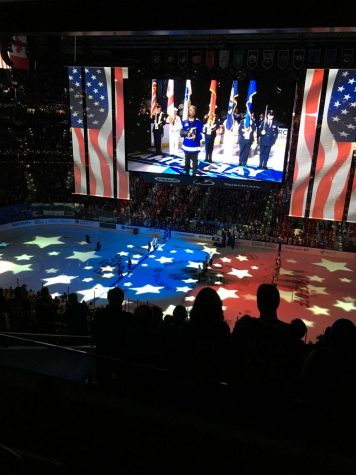 In the first period of the game Lightning player Ondrej Palat, number 18, scored a goal with assists from Brayden Point, number 21, and Victor Hedman, number 77. The Lightning held the lead all through the first period and into the second, where Point scored the Lightning's second goal of the game unassisted. However, in the second period, Florida Panther players Connor Brickley and Mark Pysyk scored, tying the game 2-2.
The third and final period of the game saw two more goals from Lightning players Vladislav Namestnikov, number 90, and Nikita Kucherov, number 86. The Florida Panthers quickly countered with a goal themselves from Jonathan Huberdeau, making the game 4-3. In a last ditch effort, the Florida Panthers had their goalie leave the game during the final five minutes, to give themselves an extra player on the ice. Nonetheless, Palat broke away with the puck and scored an empty-net goal, finalizing the score to 5-3. When the game had concluded the Lightning players celebrated winning their first game and saluted their fans by raising their hockey sticks into the air.
Amelia Traviesa ('20) said, "I think that it's a cool tradition because their fans are so loyal and almost every game is a full house."
Sophia Tremonti ('18) also said, "I was surprised by the team because this year  I honestly did not think that they would be good. I think that the tradition of them raising their sticks in the air is really cool because they acknowledge their fans being there and show that they love their support."