Volleyball Competes Against Cardinal Mooney in the District Semi-Finals
October 18, 2017
On Tuesday, Oct. 17, 2017, Academy volleyball competed in the district semi-finals against Cardinal Mooney, hosted at Tampa Catholic High School at 5:00 p.m. They played a total of five sets, and lost the last set at 15 to 13. This ended their 2017 season with a record of 14 wins and 8 losses.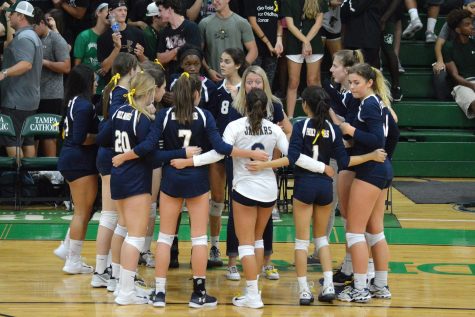 Academy started off strong, winning the first set 25 to 20 and the fourth set 26 to 24. The game lasted two and a half hours, exceeding the sports typical one and a half hour duration.
During the game, Katherine Pickard ('18) had 42 kills (the highest number of the game), while Briana Benito ('17) had 36 digs.
Benito ('17) said, "After losing to Cardinal Mooney at Spike n' Splash in three sets, we came back and tougher and played them to five sets. Even though this game ended the season, I'm proud of how hard we fought till the end."
After a sprained ligament and dislocated kneecap kept Vanessa Davila ('18) out all season, she was finally cleared to play for the district semi-final game. Davila is a libero, and has been apart of the Academy volleyball team since her freshman year.
Davila said, "I was nervous when I first went it because I have never played during the season, but then after I served the first ball, I was perfectly fine. I cried at the end because I'm going to miss my team and representing Academy."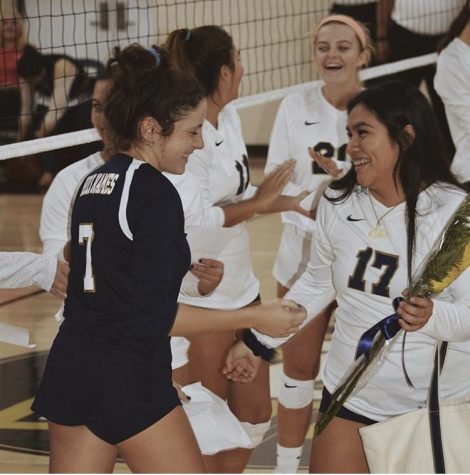 This years team consisted of 15 players, ranging from freshmen to seniors. Head coach Laura Praetorius has coached the Academy volleyball team for the last two years and took the team all the way to the regional quarterfinals last season. This year the team lost six seniors, leaving a lot of room for growth and adjustment for the team this season.
Praetorius says, "I am proud of this season overall. After graduating most of our starting line up, we adjusted well through unexpected injuries and illnesses. We have a tough district and competed with the best. I think we did a great job representing AHN."