Academy Swim Team Wins State Runner Up Title
November 8, 2017
On Thursday, Nov. 2, 2017 the Academy of the Holy Names  swim team began their trip to States. There the girls hoped to defend their State Runner-Up title  title that they received last year. The girls were excited about going to States, but also kept in mind that the competition would be tough this year.
Gabby Delp ('18) says, "Even though we were runner up last year going into states we were expected to be the underdogs this year. We lost a key scorer, Lara Lontoc, in both the relays and individual events so everyone this year has to step up to continue what we started last year."
There were high hopes for many of the girls this year, as many were expected to place in the top eight in the state. Furthermore, the relays-200 medley, 200 free, and 400 free-were prospected to be in the top five in the state.
The meet began November 3, 2017 at 8 am. In the morning session, also known as prelims, the swim team competed in all their qualified events and waited to see if they would make it back to the afternoon session, also known as finals. As finals rolled around, Academy was in third place behind Arnold by 11 points. Coach Bill Shaffer told the girls, "We aren't done, we're not finished yet," hoping to fire them up for the last session of the meet.
Finals began with the 200 medley relay, including the swimmers; Sydney Wills ('20)- backstroke, Sierra Wills ('18)-breaststroke, Bella Kirkpatrick ('18)-butterfly, and Katie Taulbee ('19)-freestyle. The relay finished fourth overall, and the session quickly went on with the next swimmer being Taulbee in the 200 individual medley.
Taulbee was one of three Academy girls who placed in the top eight at prelims, also Wills ('18) and Kirkpatrick, therefore giving her the opportunity to receive a medal at finals. Taulbee placed fourth overall in her event. The next event the team would see a swimmer in is the 100 butterfly, with Kirkpatrick who placed eighth overall. Next, was another swim by Taulbee in the 100 freestyle where she placed eighth overall.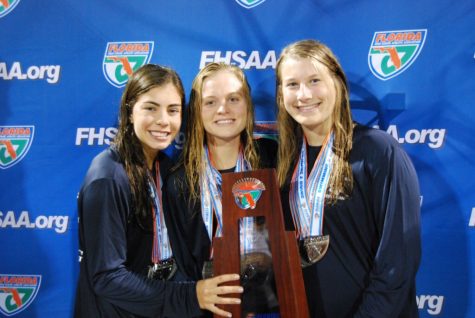 The team then prepared for their next event, the 200 free relay with Wills ('20), Wills ('18), Delp ('18), and sixth grader Ashlin Cannella, and the relay finished seventh overall. The next swims came quickly for the girls with the 100 backstroke, swam by Kirkpatrick with an eighth place finish overall, and the 100 breaststroke swam by Wills ('18), with a seventh place finish overall.
The last event of the night was the 400 free relay with Taulbee, Lauren Sellers ('18), Delp, and Kirkpatrick, which placed second overall. In the conclusion of the meet, the girls received the title of State Runner-Up for their second year in a row.
Kirkpatrick says, "Going into States, we honestly weren't expecting to finish second again, because we had lost seniors from last year. Although, this did not stop us. We had positive attitudes and were determined to win medals for our school."