Varsity Basketball Battles CCC
December 8, 2017
Coming back from a tough tournament in Orlando over the weekend, the AHN Varsity Basketball team traveled to Clearwater Central Catholic on Tuesday, Dec. 5 for their fourth game of the regular season. The weekend's tournament gave AHN its first lost game this season.
Successful bonding at the escape room! Teamwork makes the dream work 🙌🏼🥇 pic.twitter.com/oGCxne0Vcq

— AHN Varsity Basketball (@AHNBasketball) December 2, 2017
With a 3-1 record, the CCC game was a test of the team's abilities before the long awaited Spirit Night Game versus Tampa Catholic on Friday. The team accomplished their goal in Clearwater, winning 52-17 (4-1). All ten players on the team had the opportunity to play on the court, helping secure the fourth win of the season.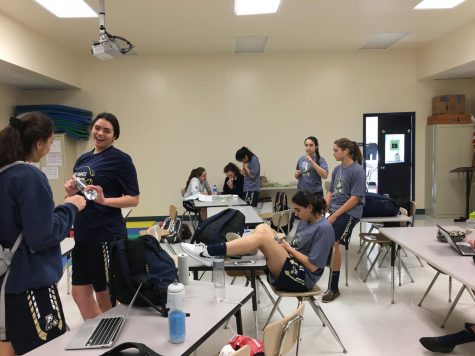 Head coach Chris Severini was pleased with the team's win, but stresses that the girls cannot get comfortable with winning by large margins.
Severini says, "We did some really good things tonight. Katherine Hahn was our spark and played an outstanding game. As a team we still have a long way to go but I'm excited about this group and confident we'll continue to grow. We'll strive to build on everything we've done up to this point of the season and be ready to go for a great challenge against TC on Friday."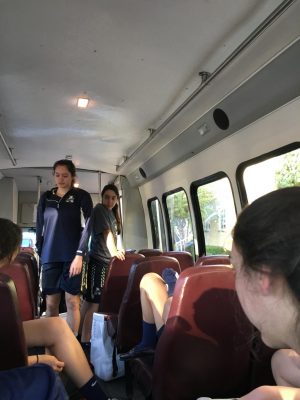 Katherine Hahn ('18) and Mickey Carney ('18) led the team in scoring. Hahn finished with 19 points, and Carney secured 15 points. Despite an intense knee injury, Hahn has proven herself thus far in the season as a leader both on and off the court.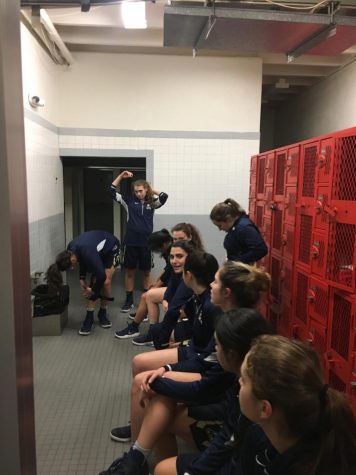 Hahn says, "Although we did not play our best game tonight as a team, I am confident that we will pull it together and compete with heart in Friday's game."
Being that CCC is in AHN's same district, this win puts the Jaguars at a high position in district standings. AHN in in the same district as Tampa Catholic, Tampa Prep, Berkeley Prep, Brooks Debartolo, Cypress Creek, Cardinal Mooney, and Sarasota Military Academy.