Academy Varsity Basketball Competes Against Tampa Catholic
January 22, 2018
On Friday, Jan. 19, 2018, Academy's varsity basketball team competed against rival team, Tampa Catholic Crusaders at 7:30 p.m. The Jaguars lost against the Crusaders with a final score of 29 to 65. Earlier in the season, when the Jaguars competed against the Crusaders for the first time of the 2017 season, the Jaguars lost 65 to 31.
Captain Lindsey Perez ('18) says, "Even though we lost by a lot, we continued to keep our heads up and never give up. We started the game better in the most previous game but we lost by about the same amount so the improvement from the first time we played them was the first quarter."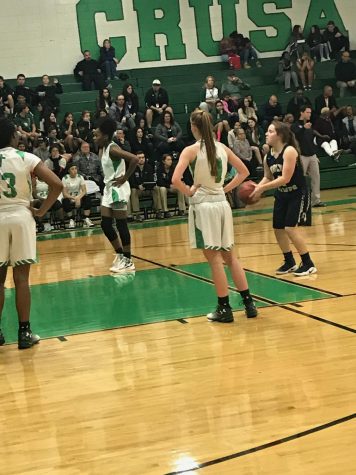 The Jaguars will face the Tampa Catholic Crusaders again at the district semifinals on Feb. 8, 2018 at Academy. The team has things they are practicing to improve on before facing the Crusaders for the third time this season.
Samantha Miller ('20) says, "Although we have played poorly, we plan to play aggressively and give everything we have in the future. In practice we will focus on how to deal with things under pressure."