Tennis Match vs. Tampa Catholic Begins Season
February 22, 2018
On Tuesday, Feb. 13, AHN's Varsity Tennis team began their competitive season with a match versus Tampa Catholic. With five new players, the team was excited to see what to expect for the season's coming matches.
One of the new members of the team, Isabella Duarte ('22) said, "I was not too nervous before my match; most of my nerves were during [the match]. Even though it was so long, I had a lot of fun."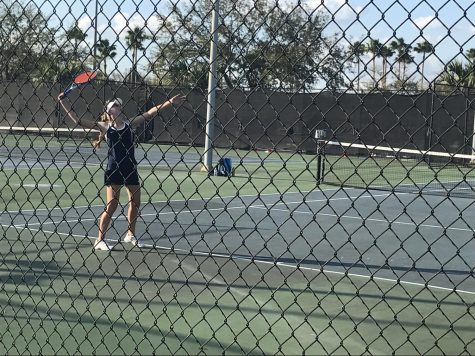 Caitlyn Asher ('19), a returning starter and the team's #1 player, said, "I am trying to improve and do my best this season since a lot of the players are really hard."
Ultimately, Tampa Catholic defeated AHN 6-1. Still, the team is excited for a possible rematch at Districts.
Number two starter, Lauren Harris ('19), said, "I had the flu [during the TC match] but I thought everyone did their best and I saw good potential for the season.