Varsity Soccer Competes at Regional Final
February 20, 2018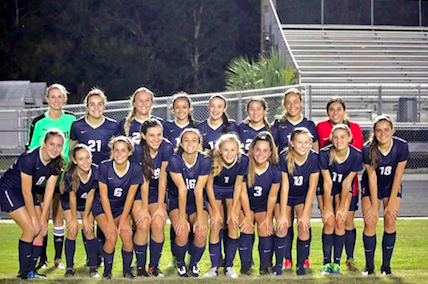 On Tuesday, Jan. 13, AHN's varsity soccer team traveled to Fort Myers to compete in the regional final, a part of the 2A championship tournament. AHN has been a state Final Four participant for the last two seasons, meaning they qualified as one of the best four teams in their class advancing to the semi-finals.
Excited for the soccer jags…off to regional finals @holynamestpa pic.twitter.com/SIHG1ynY87

— kps (@chattygolfgal) February 10, 2018
Despite a tough game, AHN fell short in the second half 2-1 against Bishop Verot. After the opponent scored a goal in the first half, Olivia Tremonti ('20) tied the game in the second half with a corner kick.  Shortly after, Bishop Verot responded with the winning play to score their second goal.
"I remember when we were playing against McKeel in the regional semi-final, and it was a minute into the second half. I scored a goal to put us up 2-0, and i just remember everyone was so ecstatic," Olivia Tremonti ('20) says.
Jags soccer ties it up 1-1! Here we go, Jags! 23:00 @TBHomeTeam @jagnation_1881

— AHN Jaguars (@holynamestpa) February 14, 2018
The varsity soccer team ended their season with 15 wins and 6 losses. Their district game record was 5-0. They are ranked in Florida as 30th overall, and 95th overall nationally.
Each girl on the team has played a role this year, thanks to their head coach Kareem Escayg. The 2017-18 varsity soccer team was composed of four seniors, six juniors, ten sophomores, and two freshmen for a total of 22 players.
Claire Obeck ('18) has been a part of the team since freshman year, and in her time the varsity soccer team has won two district titles, two regional titles, and two state runs.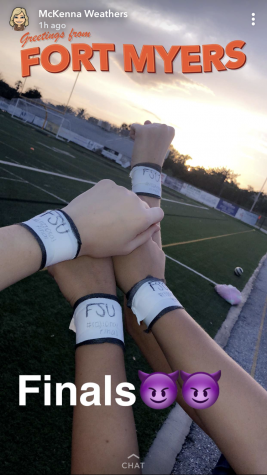 "Looking back on the season I could not be more proud of the effort that each girl put into the last final games. I can honestly say that the last four years on the varsity soccer team have been ones that I'll never forget. Although the seniors are sad that the season has come to an end,  we are looking forward to moving into the next chapters of our lives and carrying all the soccer memories with us," Sophia Tremonti ('18) says.