March Madness Sweet 16 Rundown
March 23, 2018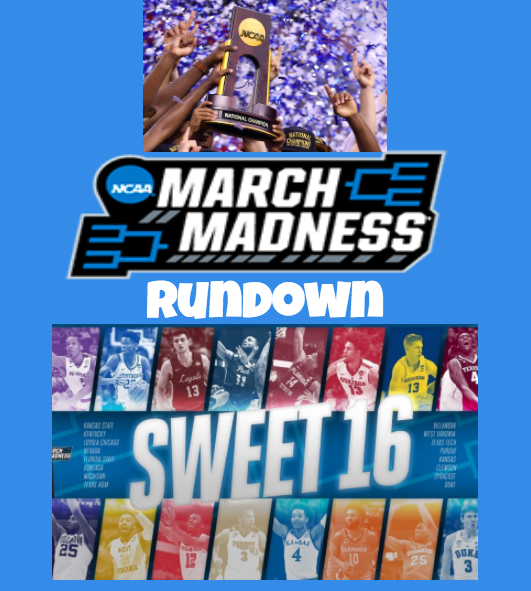 The annual NCAA Division I college basketball tournament is known as March Madness because it occurs throughout the month of March with the championship game held on April 2. A majority of fans create brackets or pools, where they are able to predict the outcome of each game in the tournament. This three week, single elimination tournament decides the national champion.
Kayla Eckermann ('18) participates in March Madness every year with her family. She says, "UVA screwed up my bracket. We all compete for who guessed most correctly. My brother, dad, and I are all huge basketball fans so we watch all the games."
#Sweet16 Power Rankings

1. Villanova
2. Duke
3. Texas A&M
4. Kansas
5. Clemson
6. Kentucky
7. Gonzaga
8. Texas Tech
9. West Virginia
10. Florida State
11. Purdue
12. Michigan
13. Syracuse
14. Nevada
15. Loyola-Chicago
16. K-State

WHY 👉 https://t.co/LucFunC3nc

— NCAA March Madness (@marchmadness) March 20, 2018
After the 36 best ranked teams are automatically entered into the tournament, a committee selects the remaining slots for a total of 68 schools. Each team is then assigned a seed (1 through 16). In order to make each game fair, teams from the same conference do not play each other unless it is the regional final.
This year, there have been so called upsets, including  No. 1 University of Virginia being eliminated by No. 16 University of Maryland- Baltimore County.
Lauren Sellers ('18), who plans to attend FSU next year, says, "There were so many upsets so far – it's insane. First, Virginia, UNC, and now Xavier. I met Luke Maye [forward] in January. I heard he was going to try to go pro after this year, but with the way this season ended, it makes me wonder if he'll stay on the team for his senior year. I also stayed up to see the FSU game and that was so intense. They fought so hard against Xavier, and it really made me feel good, especially after what happened to UNC."
Alyssa LoSauro ('18) says, "The games are incredible to watch because there are so many upsets; you really don't know who will win no matter what they're seeded. FSU beat Xavier – the #1 seed – last night which was an upset and I'm so happy they're going to the sweet 16."
The schedule and teams of the Sweet 16: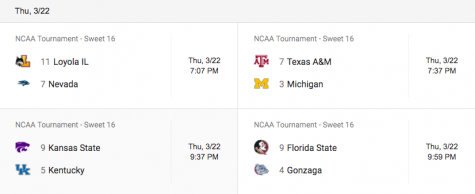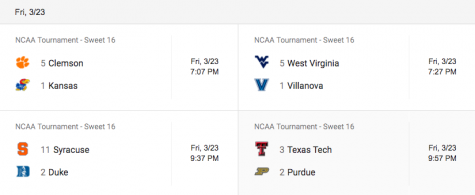 Macy McConnie ('18) says, "I definitely was not expecting a 21 point spread between Texas A&M University and the second ranked team, but now I think that if they beat Michigan they will have a pretty decent chance the rest of the way."
MICHIGAN WINS IT AT THE BUZZER!!!! 🚨🚨🚨#MarchMadness pic.twitter.com/COR9MEjX59

— NCAA March Madness (@marchmadness) March 18, 2018
The Elite Eight will be decided by Friday night, and after that the Final Four which will be held in San Antonio. 
UNREAL.

UMBC becomes the first 16 seed to upset to beat a No. 1 seed!#MarchMadness pic.twitter.com/iLdbVhNC0A

— NCAA March Madness (@marchmadness) March 17, 2018