AHN's Track and Field Team Competes in FSHAA District Meet
April 13, 2018
The annual Florida High School Athletic Association Class 2A District 10 Track and Field Meet took place at Berkeley Preparatory School on Wed., April 11. The meet began with field events at 10 am, continued with preliminary races at 12pm, and ended with finals which began at 4:30pm.
There were six Tampa Bay area schools participating in this event; Academy of the Holy Names, Berkeley Preparatory School, Jefferson High School, Middleton High School, Spoto High School, Tampa Catholic High School. AHN had 31 students that participated in this year's meet in both track and field events.
After each event, points were calculated by what place each competitor came in.1ist place was worth ten points, second was worth eight points, and then from third place on, the points decreased by one, with the lowest ranking being 8th place, worth one point. Awards were presented to the top eight competitors of each event.
In order to determine who wins the meet, all the points earned by each team are added up and compared to one another. AHN finished the meet in second place with a score of 155 points, behind Berkeley with a score of 242 points, and ahead of Tampa Catholic with a score of 83 points. In addition to an excellent overall showing, AHN placed in the top four in ten individual events. Those events will be taken to the regional meet at Cypress Creek High School in Wesley Chapel on April 25.
Gabrielle Hogan ('18) said, "Although it wasn't a surprise that we got runner up to Berkeley because it happens every year, it's still very upsetting. I think we are all really excited to compete at regionals though! I always get nervous before a big meet, but I know we are ready. This is what we train for all year."
Meghan Hughes ('20) set a school record for the 800 Meter Run. Hughes completed the two lap race in two minutes and 18.90 seconds, beating the old school record of two minutes and 22 seconds.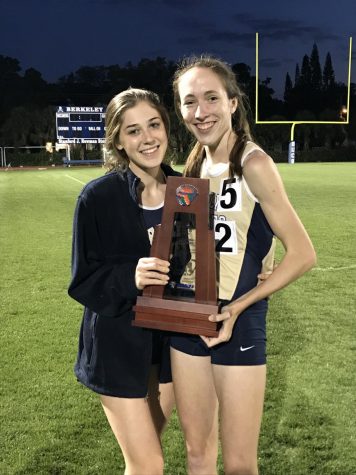 Athletic director, Kevin Vargas, attended the meet. Vargas said, "Earning a district runner-up trophy is nothing to sneeze at; there are four other schools who would like to have what we earned. There was a tremendous amount of hard work put in by our athletes and coaching staff throughout the season and earning a trophy for our efforts is something to be very proud of. It's also important to note that a trophy doesn't define a season and a perfect example of that is the amount of girls who PR'd (set personal records) at districts. Every season and every sport is about looking at where you started as an individual and as a team and looking at the progress that you have made as a season begins to wrap up."
SaveSave