Tennis Celebrates District Runner Up Finish
April 25, 2018
For the second year in a row, the tennis team finished second in the District tournament. The team will advance to Regionals on Tuesday, April 24.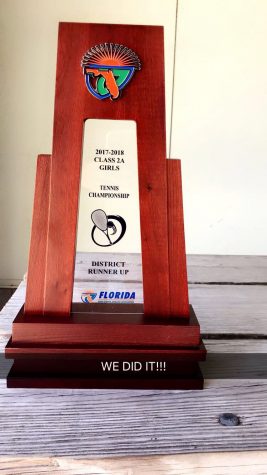 A difficult lineup proved to be a challenge for the team this season. AHN tennis battled Tampa Catholic, Berkeley, and Clearwater Central Catholic, among others, and the players were nervous going into Districts.
Maddie Chandler ('19) said, "I was scared going into the tournament because it really counts. I won against Middleton but lost to Robinson."  
For many of the players, it was their first time at the District tournament, which pairs players with competitors from teams they have already played during the season. 
Tennis Coach, Sean Craft, credits the team's dedication as a big factor in the second place finish.
"A lot of things had to go right at Districts. [The team] played well and also got lucky with the draws," said Craft.
The team is looking forward to the Regional tournament in Lakeland and hopes to advance to States.
"This was my second year in the state series, and we played really well. I'm excited for Regionals and I'm hoping that we win," said Lauren Harris ('19).
SaveSave
SaveSave