Academy Celebrates 12th Annual Spike and Splash
October 9, 2018
In honor of PE and Swim Coach, Mara Schultz, Academy holds an annual swim and dive meet and volleyball match to support Breast Cancer Awareness month. Academy's 12th annual Spike and Splash was held October 3, 2018 in remembrance of Schultz and all others diagnosed with breast cancer. Spike & Splash also raises awareness for pediatric cancer, in honor of swimmer Cailin Cannella, who lost her life last year battling against cancer.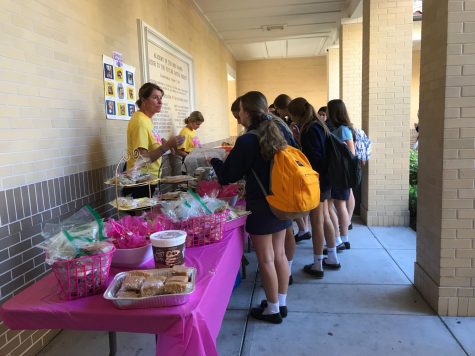 To prepare for this event, the swim and volleyball team holds bake sales during school to help contribute to the donations. During the event, the Mother's Association has a bake sale in the gym lobby to raise money as well.
The volleyball team played a competitive match against Tampa Catholic, coming out with a win for their last district game. The final score was 15-11 in the fifth set and finished with a serving ace from libero, Olivia Mortellaro ('21). Volleyball player, Sara Vivero ('20) says, "I think everyone played phenomenal and I'm so excited that we beat Tampa Catholic! It was very nerve racking that it went to five sets but I knew we could pull through to win." 
Days prior to the big game, Brianna Benito ('19) said, "I'm really excited and looking forward to it since it's going to be our biggest match of the season. I think if we play the way we are supposed to, the results will be in our favor."
Academy's swim and dive team, combined with Jesuit High School, competed against Plant High School, fighting through every stroke. Plant's girls swim and dive team and Jesuit's boys swim team finished first in the meet.
Swimmer Grace Buckhorn ('19) said, "I think our team did really well, we were all really hyped up. I literally almost started crying when the boys starting chanting 'How strong are we? Cailin strong.'"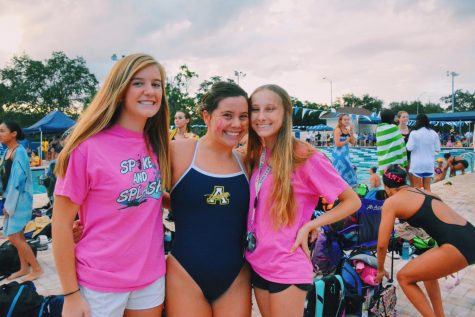 Before the meet, diver Sophie Ragano ('19) said, "I don't know if we will win, but I think that as a team we are going to try to do our best in each of our individual events and focus on remaining unified and working toward the ultimate goal of the meet, which is to raise awareness and money for cancer and cancer research."
Regardless of the outcome of the sports events, the annual Spike and Splash event brings families and friends together. Parents, students, and siblings watch volleyball and swim, eat dinner at the Dad's Club grill out, and get goodies from the bake sale to support breast and pediatric cancer.