AHN Basketball Season Begins
December 3, 2018
Academy's Varsity Basketball team has been preparing for the upcoming season since Sept. 10. It started it with weekly workouts after school for speed and and strength conditioning.
Coach Christopher Severini says, "This year we have two main goals: to finish the season with a winning record and finish within the top three of our district. I am most excited for Spirit Night versus Clearwater Central Catholic and our Christmas Tournament."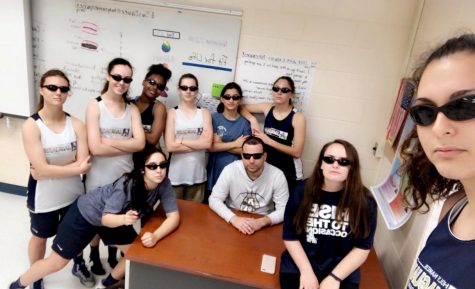 Senior leader Greta Dieck ('19) is this year's varsity captain. She is the team's leading scorer, averaging 11.3 points per game and a total of 45 points in just four games.
Dieck says, "We graduated six seniors and five starters, so the shift from last year to this year has been pretty drastic. Last year we had more experience and height, as this year we're mostly underclassmen and don't have many tall players. Our defense this year has had to be pretty airtight since we struggle to score on offense, but we've done a good job of getting deflections and forcing turnovers on defense. Our team has come a long way in the past month and I think we're getting close to playing at the next level together."
The Jaguars competed in two preseason games against Chamberlain and Robinson High School. Both games were unsuccessful, but were great lessons for the team.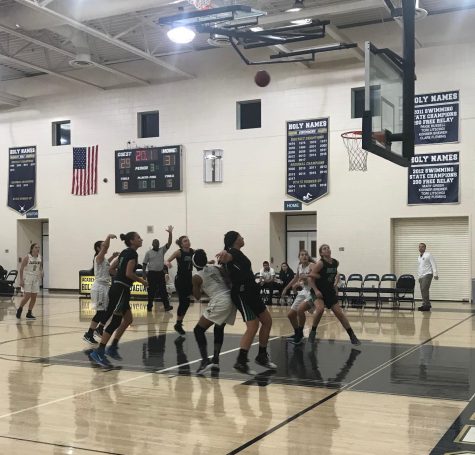 After a tough preseason, AHN has had a great start to the regular season with a 3-1 record. The first game took place on Nov. 20 against Bishop McLaughlin. Shooting guard Gabrielle Morrison ('22) led the team to a victory with a team high of 18 points, making a big statement the start of her Academy basketball career. The final score was 52-36.
On Nov. 26, the team traveled to Wesley Chapel to face the Cypress Creek Coyotes. The team finished the game on top with a score of 56-24.
AHN's only loss occurred on Nov. 28, when they played in a home match against Land O' Lakes. The team was defeated 24- 41.
Academy bounced back after a tough loss to the Gators and secured their third win of the season when they faced off with Gulf High School's Buccaneers. Angie Peña ('20) tallied the most points between both teams with 19 points.
Peña says, "Beginning the game, we were slow and were not awake. Something sparked in the second half. The ball movement was great and shots were falling in. The defense effort was great especially by Greta closely guarding the other team's best player. I felt pressure when I got to the free throw line at the end of the fourth quarter as there was 16 seconds left, and we were down by two."
[playbuzz-item item="fd025481-4fb6-48c9-a5be-55e253a0d643″ shares="false" info="false" wp-pb-id="608717″]