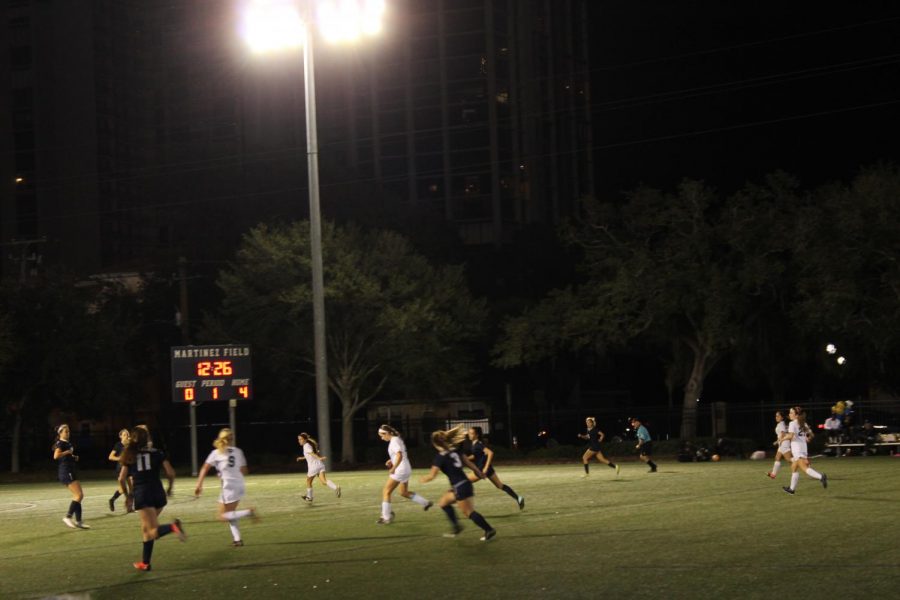 Photo Credit: Isabella Thorpe/Achona Online
AHN Varsity Soccer Team Defeats Tampa Catholic With A 7-1 Win
December 10, 2018
On Friday, Dec. 7, the Academy Varsity soccer team competed against longtime school rival, Tampa Catholic at 6:30 pm. Additionally to the fact that it was their Spirit Night, the team's efforts led to a tremendous 7-1 win. Excluding the games outside of their league, the Varsity soccer team's record reveals they have three wins and zero losses thus far.
Kicking it off in the beginning, Academy had scored multiple goals before halftime was called. At one point when the score was 3-0, a Tampa Catholic player had a good shot on the goal. However, goalie Ella Hileman was on the goal and merely saved the ball, making it an exciting play for the Academy crowd.
Sophomore Casey Buckley says, "We did really well working together as a team. We kept possession and were able to advance towards the ball and towards the goal and score."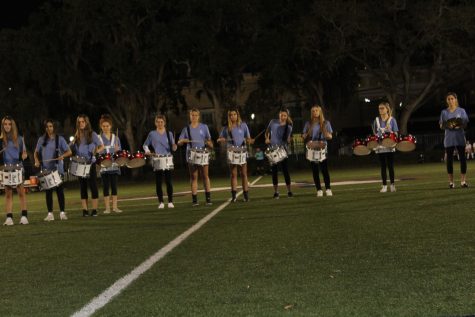 The second half proved to be as successful as the first. Senior Emily Abdoney and Freshman Nicole Sakre, who play defense, were able to keep the forwards away from the goal and worked well in the back to pass the ball around. 
A valuable player for the Tampa Catholic and team captain, Ava Pizzuto, was playing forward and fouling; however, freshman Nicole Sakre was up against her and knocked her down.
Ashley Dingle ('19) says, "We were all working together well as a team and passing around. We had a lot of opportunities to play well and took full advantage of them."
Overall, it was a successful night for the whole team, especially with two goals each from senior Ashley Dingle and junior Maddie Kurtz. 
The team agrees that they were expecting a win, but did not take the easy way out. Instead of focusing on passing the ball around and scoring, the team challenged themselves in order to practice what they had been trained to learn by Coach Kareem Escayg: possessing out of the back, quick possession, and execution with better technique.
Goalie Ella Hileman ('20) says, "It was really fun to play our rivals. Although I let one goal in, we still crushed Tampa Catholic, and I am so proud of my team."
The Jaguar's soccer team will play an away conference game against Clearwater Central Catholic for their next game at 7:00 pm on Tuesday, Dec. 11.