Academy Athletes Try Out for the Tennis Team
January 31, 2019
On January 22, 2018, the AHN Tennis Team tryouts were held from 3:30 pm to 5:00 pm at the Sandra Freedman Tennis Complex, which is off-campus as the Academy solely has two tennis courts. The tryouts lasted until January 25, the day those who made the team was announced.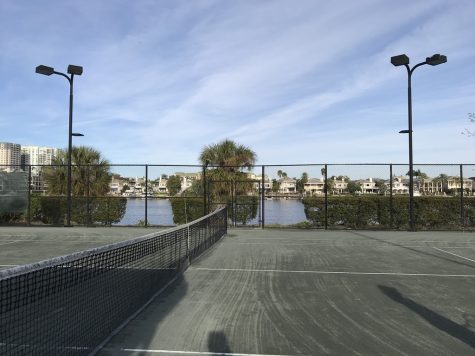 After having learned she made the team, Isabella Duarte ('21) said, "I thought they [the tryouts] were really good. It was fun this year, and everyone was super good. I made the team, and I'm really happy. I can't wait. I think this year is gonna be really good, and I think the team is going to  be really fun. My goals are just to do really well in every game in the season and make it to regionals and maybe further. I don't really know him [Robert Quinn] that well, but I think he's gonna be a really good coach."
The tryouts were held towards the end of January, not earlier or later, because all schools in the Florida High School Athletic Association (FHSAA) must follow the same calendar.   
Not only has the limited amount of positions (10) available on the team come as a shock to veterans, but the tennis team is being led by a new coach, Robert Quinn.
Quinn, also a new math teacher, said that although each girl performed admirably, 10 is all he accepted on the team: "The matches consist of only five singles players, and there are limited courts for practice time.  While I would love for everyone that tried out to be able to be a part of the team, there just are not enough courts, matches or coaches, there's only one of me, to facilitate a team with more than 10."
In total, 15 students tried out.
Hannah Bruty ('21) was on the tennis team last year, and she said, "I feel like there is a lot of tension because we are all nervous but also excited, and compared to last year, there's less people that are being accepted onto the team, so I think the people who played previously are now like a little bit more nervous. And, also with a new coach, we are all excited about having a new coach, but also we don't really know him as well. It's just a balance of good and interesting things. I don't really know Mr. Quinn well enough yet to judge."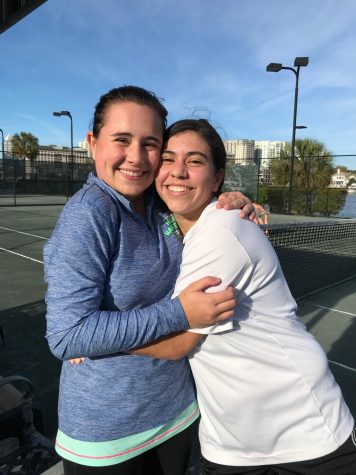 Quinn has previous coaching experience as he was the boy's tennis coach at Plant High School for four years, and he hopes to continue and build upon AHN's strong history in the tennis program.
The athletes played several matches against one another, consisting of one set each which narrowed down the prospects, depending on who won or lost. On January 22, because of the availability of several courts, the sets were each six games. However, on January 23, the sets decreased to five games, and on January 24, the sets were out of four games as court access was limited.
Bruty commented on how she played this week.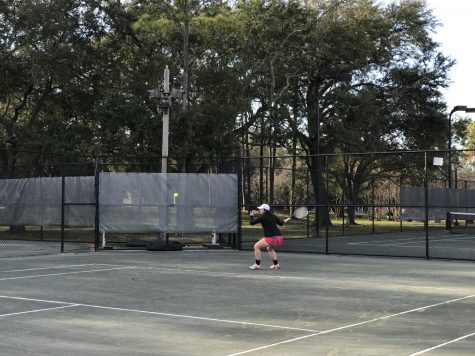 Bruty said, "I feel like we could have played at least a little bit more because we had to keep shortening the sets to save time. I feel like it could have been better if we [had] just done a set of six against everybody and gotten it all in, but I know since we do not have a lot of time to do that. I think that if it was over two weeks, maybe it would be a little bit more easy going, and we'd all get used to it and play each other and get used to the idea of it. The first day we were all really nervous, so I think everybody didn't play as confidently until like later this week like yesterday [Thursday, January 24] he [Quinn] told us that we were doing really well compared to the beginning of the week [because] we were all really nervous. The players this year are good and some of the old players like the two sisters [Caitlin Neal ('19) and Abigail Neal ('22)] are really good too, and we are glad to have them because it builds us up a little bit, and the new players are a good mix."
Practice with the official tennis team began Monday, January 28, at 3:30 pm to 5:30 pm. However, practice was held at the AHN tennis courts.
Unfortunately, Elizabeth Konefal ('22) did not make the team, but she positively looks towards next year.
She said, "I thought it was like a really good experience because a lot of the girls were really, really good, and it was really fun to play with people who are better than you because then you can learn from your mistakes and how to improve. I am going to try out again next year."