AHN Tennis Team Plays Against Clearwater Central High School
April 2, 2019
Academy's Tennis Team played against Clearwater Central High School on March 28 in Clearwater. Adriana James-Rodil ('21) played #1 singles. Isabella Pearson, who is in eighth grade, played #2 singles. Lauren Harris ('19) played #3 singles. Katherine Rodriguez ('19) played #4 singles. Grace Odmark ('19) played #5 singles. James-Rodil and Pearson played #1 doubles. Hannah Bruty ('21) and Harris played #2 doubles. Overall, Academy won the match.
"The match today went well. We all played hard, bonded as a team, and earned an awesome win," says Bruty ('21).
James-Rodil and Pearson won 8-2 for #1 doubles. Harris and Bruty won 8-0 for #2 doubles. For #1 singles, James – Rodil won 8-1. Pearson won 8-3 for #2 doubles. Harris won 8-3 for #3 singles. Rodriguez lost 5-8 for #4 singles, and Odmark won 8-5 for #5 singles.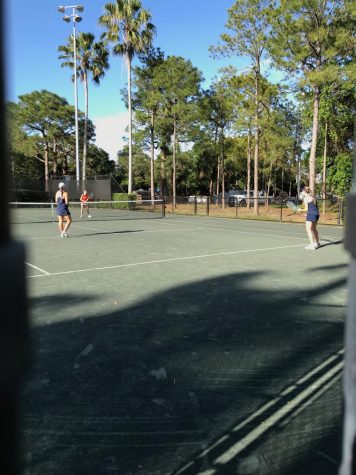 The team was released from school at 2 pm and departed at 2:30pm on a bus with the Jesuit tennis team, because Jesuit also had a match against Clearwater Central High School. Jesuit also beat Clearwater Central. The bus ride was about an hour long and the bus came back to Academy at about 7 pm.
"We played an amazing match today. Everyone did great and were full of energy. We had fun doing what we love," says Harris.
The roster for the 2018-2019 season goes as follows:
Caitlin Neal
Abby Neal
Adriana James-Rodil
Isabella Pearson
Caitlyn Asher
Lauren Harris
Katherine Rodriguez
Hannah Bruty
Grace Odmark
Isabella Duarte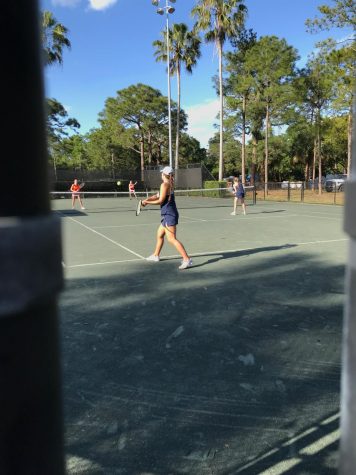 "I think that we performed very well today. I wasn't sure what to expect, seeing as I heard mixed feelings about last year's match, so I am very proud of us for our win," says Odmark.