(Photo Credit: Hannah Smallwood/ Achona Online/ Piiktochart)
Lacrosse Defeats Cardinal Mooney on Spirit Night
April 2, 2019
On Friday, Mar. 29, the Girls Varsity Lacrosse team competed against Cardinal Mooney for AHN's Spirit Night. They defeated the Cougars by a score of 20-9.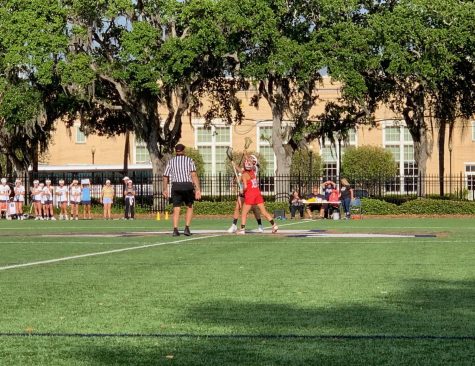 The Dad's Club hosted a cookout with grilled cheese, shrimp po boy sandwiches, and grilled salmon and cheese sandwiches. Drinks and snacks were also offered and served free, courtesy of the Dad's Club.
Going into the game, the lacrosse team had a record of five wins and four losses. The National Anthem played and shortly after the lacrosse game began.
Senior Captain Myah Rhines says, "Our team was really excited to go out and play our best. We had a couple rough games before tonight, so everyone who cam out to support hyped us up and overall we played a great game."
The team got of to a quick start. They were passing the ball effectively and attacking at the net. Within the first five minutes, AHN was up 6-2.
At halftime the Nancy Mizzell's Percussion class performed songs "Vamp" and "Raven."
Chasie Cordoves ('21) says, "We have been working on the two songs for about a month. At first the class was a little nervous because none wanted to mess up. We did really well for it being our first year in percussion. Performing in front of everyone was intimidating, yet exciting."
AHN continued their aggressive approach and continued to score.
Goalie Lauren Jones ('20) says, "Cardinal Mooney was a tough opponent but our team was able to work as a unit in order to defeat them with a score of 20-8. Their strategy included a focus only on their elite players while, on the contrast, we chose to work collectively. As a result, we were able to target their main athletes and shut them down. Additionally, many new players were able to score multiple times all while utilizing new strategies."
The team will play their next game away  at Jefferson High School on Apr. 2 at 5:00 p.m.
Update: The face-off photo shows freshmen Sophia Pyne in the face off. It was originally stated to be sophomore Abbey Crowther.