AHN Swim Team Races Steinbrenner
September 16, 2019
On Sept. 12, AHN's swim team faced off against Steinbrenner. The meet took place at AHN. This is the third meet the team has competed in, winning against the Tampa Bay Heat and Tampa Catholic on Sept. 5. The team also took second place in City Relays on Sept. 7. However, Academy's winning streak ended after Steinbrenner won 94-89.
"I was disappointed initially, but now I think that we all did our best, even if we didn't win," said freshman Mary Grace Nash. "I swam the 50 fly in the 200 medley relay with Gabby Bahr ('22), Jorja Solak ('23), and Emily Wilson ('21)."
Sophomore Emmie Drell swam four events, one of which was the 100 free.
"My time was 58.3 seconds, I would say it's my fastest and favorite event to swim," said Drell.
One of the closest events was the 400 free medley relay, with Ashlyn Canella ('24), Emmie Drell ('22), Sydney Wills ('20), and Cassidy Neely ('21). AHN lost by less than half a second. Neely swam her split 100 in 55.8 seconds.
"I was the anchor, which meant I swam last. I swam against a girl with an Olympic trials time. It was a little stressful, but I think I pushed myself to go faster than I would have," said Neely.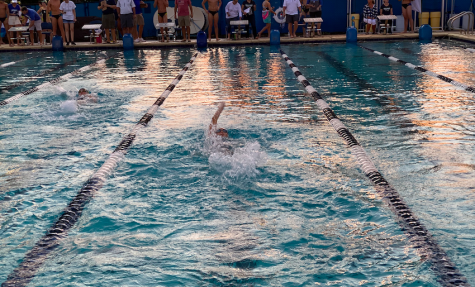 Even though they lost, Academy girls still had fun supporting their team, standing behind lanes and cheering on other team members.
"I think that it really helps out your race when people stand behind and cheer for you, It gives you that little extra energy boost you need to get through your event. It motivates me knowing people are supporting me," says Ava Zaritsky ('21).
Next week, AHN will race Robinson. The team is expected to win, as they defeated them in City Relays.