AHN's Volleyball and Swim Team Advance to Postseason
October 29, 2019
On Thursday, October 24, and Saturday, October 26, AHN's Volleyball and Swim teams advanced to the postseason.
AHN's volleyball team advanced to regionals after their win against Tampa Catholic, and faced Hudson High School this past Thursday. They defeated the Cobras, winning 3-0 match.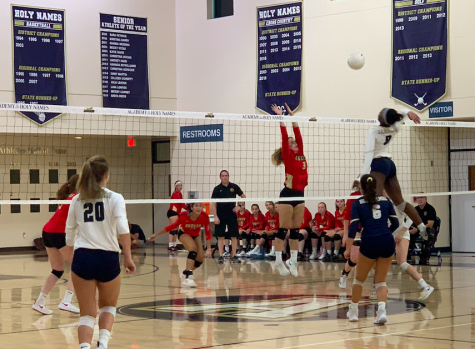 "The game went well. I think we were the stronger team going into the match, but we didn't play down to their level. Our coaches told us that it would be our last 'freebie game' of the season. But it was still a good match," said varsity senior Sara Vivero ('20).
One thing that stuck out from this game was the low turnout. Post Malone was performing the same night, which severely decreased the amount of students in attendance. Nonetheless, AHN still came out to support their team.
"Samantha Miller and I have gone to all of the volleyball games," said senior Julianne Hahn. "We think it's a good way to support the team."
AHN will face Tampa Catholic on Tuesday, October 29 at AHN. The theme of the game is "White Out", planned by AHN's spirit club, Golden Girls.
On Saturday morning, AHN's swim team went into districts with a slight advantage; they had won districts for the past eleven years straight. They never broke said streak, winning by over 400 points.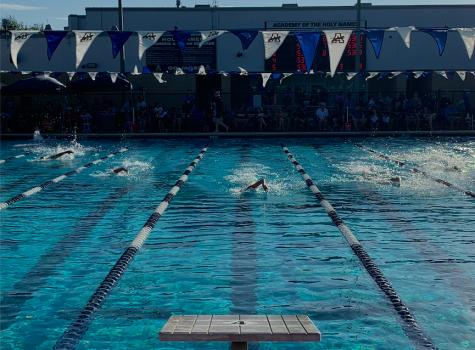 Academy was one of ten teams to compete: Jesuit, Robinson, River Ridge, Chamberlain, Tarpon Springs, Hudson, Dundein, Gulf, and Spoto.
Of the 70 girls on the team, only 20 girls actually competed. This is due to the amount of teams, and not having the time for every single swimmer to be in an event. The rest of the team came out to cheer on and support their fellow teammates. 
"I think that districts is a great time for the team, those swimming or not, to be there and push each other to be their best," said Abby Enchenique ('21).
AHN will advance to Regionals on November 2nd at the Clearwater Long Aquatic Center.