Volleyball & Swim Teams Celebrate Senior Night
October 14, 2019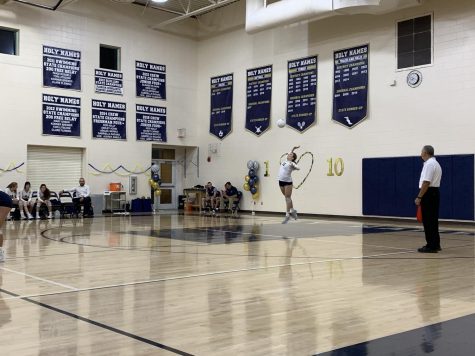 On Tuesday Oct. 8 and Thursday Oct. 10,  AHN Volleyball and Swim and Dive team honored their senior members in ceremonies before their respective matches. 
The volleyball team's seniors, Gabby Butler and Sara Vivero, were accompanied by their families in the gym on Tuesday night for the celebration of their senior night.
Volleyball players, Olivia Mortellaro ('21) and Mia Zazzero ('21), gave speeches about the seniors and presented them with flowers.
"Gabby and Sara have great leadership skills and are always pumping us up. The whole team really listened to them," said Mortellaro.
After defeating the Tampa Bay Heat volleyball team in a 3-0 match, Butler and Vivero reflected on their time on the volleyball team after four years.
"It's been an amazing past four years and  there's been a lot of ups and downs. But the people on this team are the best part and I've made friends for life. The best part of senior night was the speech because it sunk it that it was the last year," said Butler.
Last night, our AHN varsity volleyball team celebrated the hard work and dedication of their two senior athletes at Senior Night. Congrats to Gabby B. and Sara V., and shout out to the team for defeating Tampa Bay Heat! pic.twitter.com/MxECepqNgr

— AHN Jaguars (@holynamestpa) October 9, 2019
On Thursday night, AHN's Swim and Dive team honored their nine seniors: Madeline Brooker, Rachel Brown, Reagan Finch, Madeline Gallagher, Claire Murphy, Kara Pettit, Isabella Schellman, Tess Wadsworth, and Sydney Wills.
The seniors on the swim team were celebrated by their fellow teammates in a series of speeches, gifts, and special relays during Thursday's meet. 17 seniors from Bloomingdale High School were also honored on Thursday night.
"Kara, one of the seniors, is like a sister to me and I have been diving with her since the 7th grade She's been an amazing role model for me and I hope to carry on her spirit in this team after she goes on to do great things in college," said Miles Taulbee ('23).
Many underclassmen felt very welcomed by the seniors this year and felt their leadership helped in the success of the team.
"I'm going to miss the seniors so much because they were my first friends on the swim team. They got me through every practice and meet by Claire and Kara telling me to never give up. I wouldn't have been swimming without them," said Angelica Fogarty ('22).
AHN's swim and dive team defeated Bloomingdale in Thursday's swim meet with a final score of 150-49 leaving the Jaguars with a victory. 
"Swim team gave me a confidence and sense of belonging I could not find anywhere else. Coming into high school I was so scared to be myself and meet other people and the swim team has become a channel for me to be who I am. I am going to miss the atmosphere of love I feel on this pool deck," said Petitt.