AHN Spring Sports Tryouts
January 26, 2021
Spring Sports tryouts are here. Throughout the weeks of Jan 19-22 and Jan 25-29 Academy girls will be able to try out for Softball, Lacrosse, Track and field and Tennis. 
The Track and Field tryouts started Tuesday Jan.19. The Track and field team is coached by science teacher Ray Rodriguez. 
The tryouts consisted of different tests for different groups of athletes.  Sprinters & jumpers will do a 50m, 400m, a standing broad jump, and a vertical jump. Distance runners will do a 1600m and a 400m.
Throwers will do a medicine ball throw and a standing broad jump.
Lily Castellano ('23) says, "This is my first year trying out for track but I am so excited. I cannot wait to see how tryouts turn out." 
Tennis tryouts were held Jan 19-22. The tennis team is coached by math teacher, Robert Quinn. The tryouts started with a week of conditioning and then everyone trying out played short sets against each other so Coach Quinn can see how everyone competes in a match setting and get a feel for everyone's level.
Quinn says, " I am really proud of everyone that tried out this year.  We are going to have another strong team and even the girls that did not make it played really well and I could very easily see them as being part of the team next year."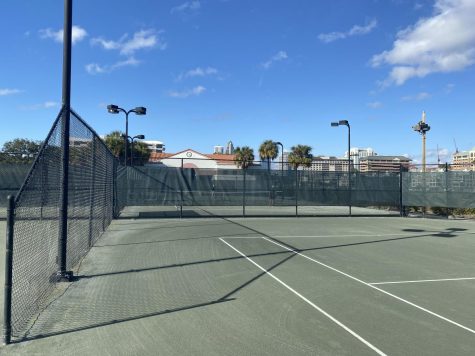 The Lacrosse tryouts are scheduled to take place Jan.25-29. The team is coached by Latin teacher, Arianna Newman. The tryouts consisted of fitness testing, competitiveness and LAX IQ. 
Lily Lopez ('22) says, " I am so excited to be able to still do sports normally this year. Especially since our season got cut short last year. I love lacrosse and can't wait to see what the season holds!"
Softball tryouts were held Jan 19-22. The softball team is coached by Jeff Krone. The tryouts consisted of infield and outfield work, running the bases while being timed and hitting.
Annabelle Sardja ('21) says, " Something I'm looking forward to is probably going to be our bus rides and our night games! I'm so excited for my last season because we definitely have unfinished business since last year ended early. I know it's all in the back of our mind that we could've won states last year and as the starting pitcher for the team, I want to make sure it happens for the freshmen, sophomores, juniors, seniors, and even the seniors that left last year. I think our team is great at what we do and we all have different styles of playing that complement each other.