Senior Athletes Recognized at "Senior Signing" Day
February 14, 2021
Wednesday, Feb. 10, seniors Grace Cronen, Rachel Petrarca, Jessica, Reynolds, Maddie Rodriguez, and Belle Sardja participated in AHN's "Senior Signing," committing to continue playing their sport at their respective colleges.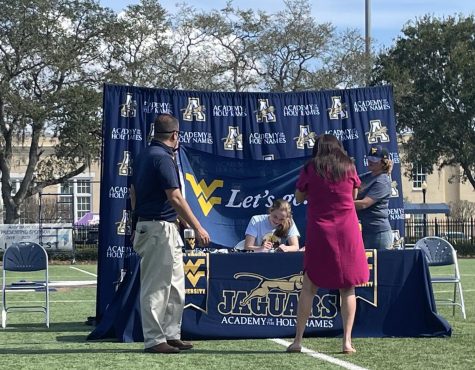 "It's always been a hope/dream of mine to be able to sign for a sport in college. And although I already signed back in November it didn't really feel official because I didn't have any of my family friends or coaches there with me. So I'm really excited to be able to sign with all those people there with me this time," said Cronen.
Jessica Reynolds signed to continue Crew at the University of North Carolina.
"I know Jessica has worked so hard these past four years, and has dedicated so much of her time and life to the sport. It's so amazing to see it pay off for her because I know she was really excited about the opportunity to row in college," said Asha Sneed ('21).
Maddie Rodriguez signed to run Cross Country and Track & Field for Flagler College.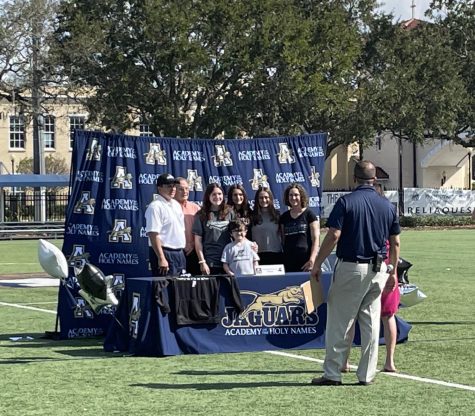 "Maddie is a really great teammate and she always encouraged us to do our best. She always cheered me on as I finished my races and helped our team to stay positive," said Grace Odmark ('22). 
"It was really nice to celebrate my signing surrounded by my family, friends, and coaches, since they have all been my support system throughout the stressful recruiting process. At this point I'm just trying to enjoy my last months at Academy and am looking forward to the future," said Petrarca.
Belle Sardja signed to play softball for Florida Southwestern College.
"I was super happy for everyone who signed, especially Belle and Rachel because they're on my softball team, and I know they are all going to have great careers in college," said Devin Tauber ('21).
View this post on Instagram