The Tennis and Crew Teams Begin their Spring Seasons
February 10, 2021
On Tuesday, February 9, 2021, the varsity tennis team (there is no junior varsity team) began their season with a win against Carrollwood Day School. The team is comprised of 11 people, including one eighth grader: Adriana James-Rodil ('21), Hannah Bruty ('21), Rhyan Tappan ('21), Isabella Duarte ('21), Jehanne Caudell ('21), Grace Carreja ('23), Isabella Muzzillo ('23), Isabella Pearson ('23), Sophia Sweezy ('23), Sophia Johnson ('24), and Ella Camposano ('25). 
However, on Tuesday, solely eight girls participated in the match. James-Rodil played number one singles, Caudell number two singles, Camposano number three, Bruty number four, and Tappan number five. Moreover, the number one doubles team was Johnson and Caudell and at the number two slot were Carreja and Duarte.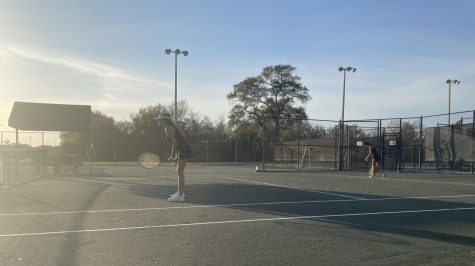 And although at the beginning of the season Tennis Coach and Math Teacher Robert Quinn encouraged everyone to show support for their fellow team members by going to every match, during a Google Meet meeting on Monday, February 8, he expressed otherwise.
Quinn said, "With yesterday being the first match, I wanted to get a feel for how everything was at HCC protocol-wise before I put the entire team there.  So this is something that will likely be revisited as the season progresses. I was very pleased with how everyone played yesterday and we have really good team chemistry with a lot of amazing senior leadership so I have no concerns whatsoever about our team atmosphere, I feel like that is a big strength that we have going for us."
The tennis team, regardless, began its season on a strong note as no players, both in singles and doubles, lost a match. They played eight game pro-sets with AD scoring. The singles and doubles scores were as follows: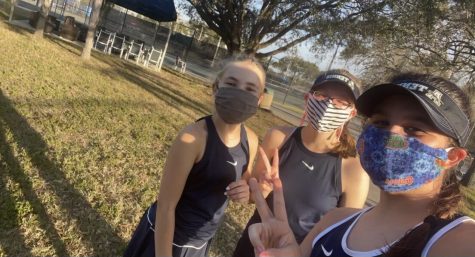 James-Rodil: 8-1
Caudell: 
Camposano: 
Bruty: 8-3
Tappan: 8-0
Johnson and Caudell: 8-0
Carreja and Duarte: 8-1
Tappan said, "With it being our first match, I thought the team did amazing. Each one of us showed up and did our very best. Even though tennis may seem like an individual sport to many, it's not. Today, for example, after many of my teammates' matches were finished, they came to watch me play; then, after I finished, we cheered on Hannah [Bruty]. It was great to see how we can all come together to support one another. I can't wait for the rest of the season and see what's in store for us."
The tennis team's next match is on Thursday, Feb. 11, against Tampa Catholic in which the line-up will look differently than previously in order to allow all players to compete.
Pearson, who will be playing number one singles, said, "I'm really excited to play, especially since our season was cut short last year. I can't wait to get on the court and represent the academy."
The Crew team, which is composed of 25 girls, has also begun their spring season, but it — like many sports — has undergone changes as a result of COVID-19. For example, they have transitioned into using bigger boats of four and eight quads. Yet, as a result of the NFL's Super Bowl experience, their boat house has been occupied, so for the past few weeks, they have been rowing out of Tampa Catholic.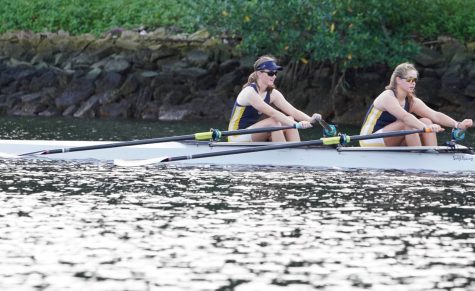 However, by next week, they will return to their boathouse on the Hillsborough River as they begin to prepare for their first regatta on Feb. 20, which will last until the twenty-first — due to the coronavirus. 
Grace Cronen ('21) said, "We're excited to finally have our first official regatta of the season. We had boathouse scrimmages in the fall, but those were unofficial. We are planning on having at least one more regatta before our two state regattas: Sculling and Sweeping states in April." 
Cronen is also continuing her crew career in college as she will be on the team at West Virginia University, in addition to Jessica Reynolds ('21) who will be rowing at the University of North Carolina at Chapel Hill. 
"The crew team is like my second family. I've met some of my closest friends through crew; I've seen myself grow physically and mentally as well. Crew has taught me to break down my mental walls and pushed me to do my absolute best. I'm very excited to row in college as it's always been a dream of mine to do a sport in college. Now, I get to continue to pursue my favorite sport at a school I love as I have been a WVU fan longer than I've been alive. I'm just excited to meet new people and grow together in a sport I love," said Cronen.