Academy Softball's Journey to States
May 25, 2021
The AHN softball team started its journey to states on Wednesday, May 19 at 2 pm in Clermont against Westminster Christian. After Wednesday they advanced to the state championship game which was Thursday, May 20 at 7 pm and they were victorious.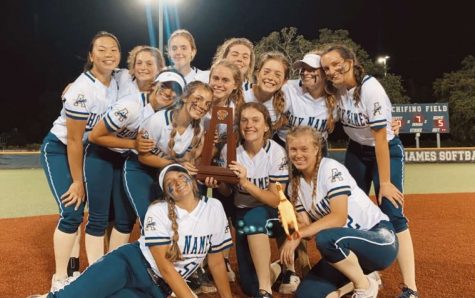 Before states, Chase Cordoves ('21) said, "The beginning of the season started off really rough for us, but as we moved through the season we started to grow together as a team and that really impacts how you play. I am very excited for these games and I think if we have a positive attitude throughout it, we are capable of doing big things. No matter what, I will be happy with the outcome of this season because we played our hardest and that is all that matters."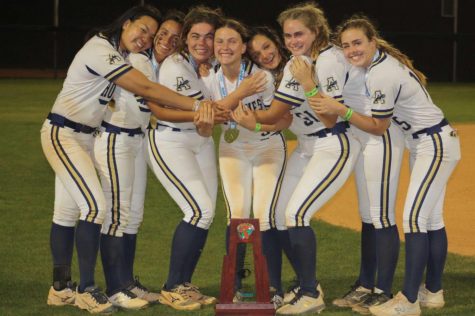 The Academy team has been working hard and trying to meet short term goals such as "playing in May" and winning just one game at a time.
The team practiced every day in hope to reach their goals. The back of their practice jersey says "unfinished business" which motivates the entire team to play hard because it helps them remember how fast everything changed last year. The team was ranked number 12 in the nation but their season came to an abrupt end due to COVID. 
Lucy Dyer ('22) said, "The entire team and I are super excited and hoping to make history." 
At the start of the game final game against the Windermere Lakers, they were down and needed two runs to win. Fortunately, two runners got on base and Annabelle Sarjda ('21) hit a double and both runners scored, allowing Academy's team to win.
This was the Academy's first softball team to win states. 
Academy President Art Raimo attended along with High School Principal Stephanie Nitchals and Assistant Principal Erin Krukar A good amount of students also went to cheer on the team. 
Adrianna Vargas ('21) says, "I went to the game with Anne, my sister, and my grandparents. It was the most intense and fun softball game I've ever been to. It was so awesome to be able to be there in person. I was so excited and proud of the team, the coaches, and my dad."