Fall sports swing in
September 16, 2022
When fall sports come,  it is an exciting time for Academy students. The school spirit starts to rise and the overall energy around the school is uplifted. These fall sports consist of  Volleyball, Swim and Dive, Crew, Cross Country, and Golf.
Senior Kinsley Warbritton, captain of the varsity volleyball team, has a deep love for her team and sport. Warbritton says "I love being around all my teammates. We all have such a close bond, it's like having 11 sisters."
The team always looks forward to Spike and Splash because of the vast crowd that comes out and supports them.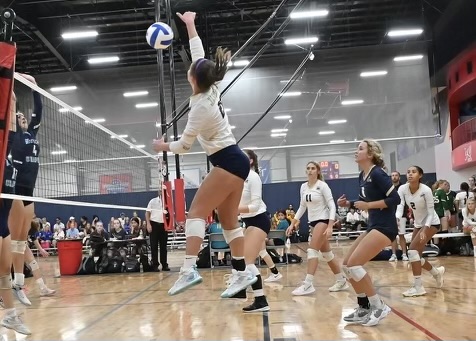 Swim and Dive is an amazing sport that allows you to meet a ton of students because of how big the team is. Junior Meghan Hyer says, "Even though the team is big, the team bonds are unbreakable and Coach Bill is always there with us to help keep our bonds close in times of difficulty."
These girls practice four days a week and are very dedicated to their sport as well as to their teammates. Hyer is most excited for Spike and Splash this year mainly to honor the tragic loss of Cailin Cannella but also to see everyone that comes out and supports.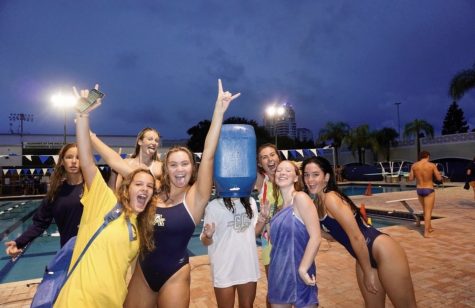 Cross Country is a sport that consists of a lot of running and can be difficult at times, but these girls have built life-long friendships due to the amount of time spent together.
Junior Chloe Carson says "I enjoy cross country because it keeps up my endurance and I got to meet and become friends with the whole team this year because it is my first year."
This team practices every day, with an exception of an off-day on Sundays. They may also have a day dedicated to weight lifting, or a rest day if needed.
Carson says "The bonds on this team are like no other, Coach Rodriguez gets along with us so well, and we all love our runs and talks with him."
These girls often run at Jesuit or local parks located near Academy. Carson thinks that this year will be so exciting year, especially with the support of the other girls on the team, coaches, parents, and other students.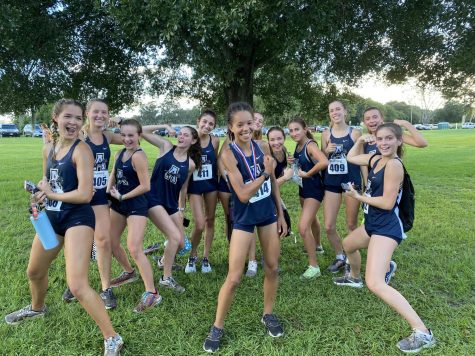 Rowing helps the girls on the team build confidence and endurance. Senior Bridget McLaughlin says " I love the challenge of rowing, I have never done something that pushes me to my limits."
Rowing is always such a fun time for these girls and allows them to take a break from school and enjoy their time on the water with their friends. They practice at Julie B. Lane park, the front park at the boathouse on the River Walk located in Downtown.
McLaughlin says "I am very close with my teammates and coaches. I can rely on them and they are always honest with me." These friendships are unbreakable because of the amount of time spent together during the week and on weekends. This should be such an exciting year.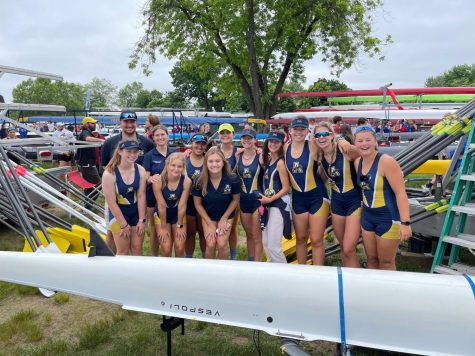 Junior Caroline Cross, a star player on the golf team loves the sport because of the great relationships she has developed.  Cross says "she loves being able to play with her family and friends."
Golf is an amazing sport because it offers so many opportunities. It is a way to have fun, build relationships, and enjoy the outdoors.
Cross says " The bond between me, my teammates and coach is definitely still growing since we've only had a couple of weeks of practices and this is also our coach's second year coaching so we are still getting to know him a little better." Cross and her team are ready for all the tournaments this year and are super excited.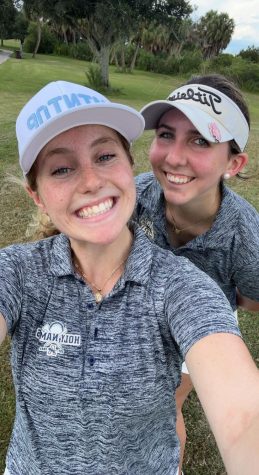 Fall sports are always such a fun time for Academy Students. This year, a goal for everyone as Academy students is to build up our school spirit and hopefully carry on the school spirit to future generations. We are trying as a whole school to make this school year our best year yet.