Seniors Sip and Recollect at Annual Silver Coffee
May 15, 2017
As their high school expedition draws to a close, the 84-year-old tradition of Silver Coffee is celebrated among seniors and their mothers. As nostalgia fills the Brady Center, mothers and their daughters sip coffee, reminisce on the beloved memories shared by the graduating class, and engage in conversations about the eager plans of the seniors post-graduation. The Class of 2017 was honored at the annual Silver Coffee on May 5. 
Silver Coffee was originally associated with the Mother's Association as a way for Academy mothers to become more acquainted with another. Originally a Silver Tea, mothers were treated with dignity as seniors served as waitresses during the function. Additionally, the social gathering served as a bazaar and, therefore, mothers would bake goods and casseroles throughout the week leading up to Silver Tea.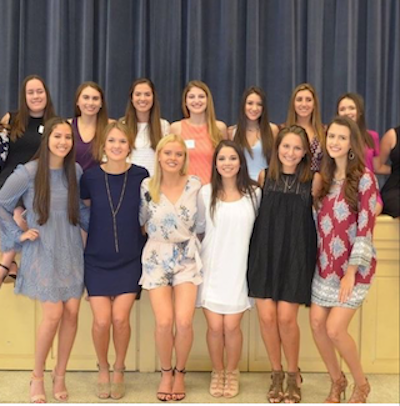 However, around 30 years ago, the Holy Names Alumni Association (HNAA) gained responsibility of the event and began to honor both the seniors and their mothers. Although the HNAA makes all of the arrangements of the event, the Mother's Association continues to co-sponsor and provide the coffee.
Director of Alumni Relations, Patty Bohannon , says, "Silver Coffee is a wonderful opportunity to introduce our seniors to the Alumni Association, who is responsible for ensuring meaningful Academy traditions live on."
The sophomore and junior Ambassadors have the privilege of attending the cherished festivity due to their role as servers. The assignments that these girls have to fulfill include preparing the punch, preparing the trays, serving the deluxe appetizers and desserts during the coffee, restocking the coffee pots, clearing the tables, and cleaning afterwards.

President of Ambassadors, Kendall Bulleit, has worked the memorable event twice due to her duties as a member. Witnessing the esteemed tradition in the past has proven to her the pivotal role it plays in the Academy experience.
Bulleit says, "[Silver Coffee] had been something I had always looked forward to, something that marked my transition into the next part of my life, maybe even more than graduation."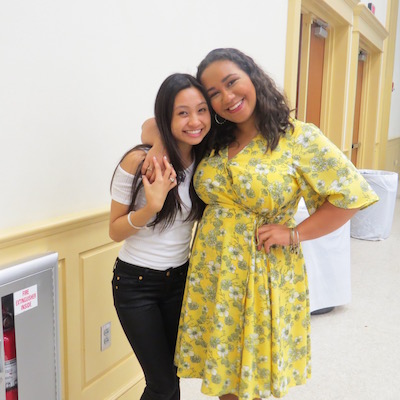 Tied in with the Rose and Induction ceremony, Silver Coffee provokes a bittersweet ambience among the members of the senior class and their moms, whom the majority will be leaving by early August. The deeper meaning of Silver Coffee evokes a discussion on the graduating class' authenticity and true glamour.
Senior Shannon Flaharty says, "Personally, it hasn't really hit me yet that we are all going off to college soon, so I have just been enjoying all the time I get to spend with everyone. Also, I was so shook that everybody had such cute and unique dresses because dress shopping for these events is impossible and we have had seven senior events that required wearing a dress."
Flaharty and Audrey Anello also both agree that spending time with their moms and witnessing their joy was simply the icing on the cake.
A mama's girl, Anello says, "[My mom] is not an alum, so it made us bond over the experiences and education of Academy even though she did not experience it herself as a student. Silver Coffee was just so beautifully done; it was like the big bow on top of my Academy experience."