Kicking Off the 2017-2018 School Year
September 2, 2017
Academy of the Holy Names kicked off the 2017-2018 school year with an all-school orientation on Aug.22, 2017. The entire day was planned out by Student Council, led by President Alex Smith ('18), and Vice-President Maddie Obregon ('18), with the help of moderator, Jenny Van Pelt. The day began with a meeting in homeroom and then the high school was sent to the gymnasium for a pep rally.
Classic first day chants, such as 'Little Red Wagon' and 'Lion Hunt' were led by Student Counsel Senior representatives as each class competed to be the loudest and most spirited.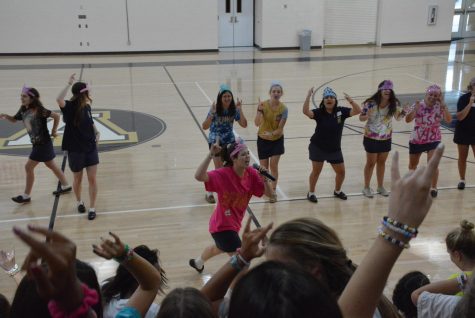 After breaking up into groups assigned to each Student Council representative, students played bonding games and participated in an Egg Drop competition, sung the Alma Mater, and were then dismissed for lunch.
Sarah Devaney ('21) said, "Orientation was really fun, and my favorite part was when we broke off into groups and did the funny Hula Hoop game and the egg drop contest. Even though I went here in middle school, it was a completely different experience, and I'm so excited for the next four years."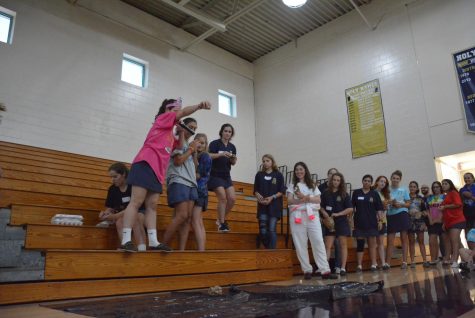 When the guest speaker scheduled for after lunch fell ill the morning of her presentation for AHN, Haley Palumbo ('18) and her "Girl Rising" initiative videos took center stage for most of the afternoon.
Palumbo said, "Although the day seemed to be making a few turns toward the worst, I'm really happy that it happened. It was a blessing in disguise, and I was given the opportunity to share my initiative with the student body, and although I've already gotten the chance to show it to almost everyone, the freshman had never even heard of it."
Shortly after the second video ended, Administration informed the students that they would be released a little early, given the change in plans, in addition to the fact that Brady Center North was  experiencing issues with the air conditioning.
The day may not have gone exactly according to plan, but the seniors found the early release to be exactly what was needed because following AHN tradition, they held the highly anticipated Senior Sleepover the night before orientation. The night was filled with many things, however, sleep was not one of them.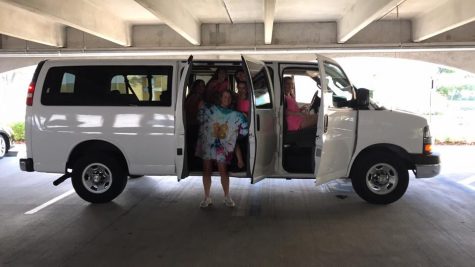 The Class of 2018 danced the night away, made Kandi Bracelets, inspired by their classmates Evan Greek and Bella Kirkpatrick, and marveled at each others homemade shirts all while new and throwback hits blasted throughout host Samantha Garateix's house.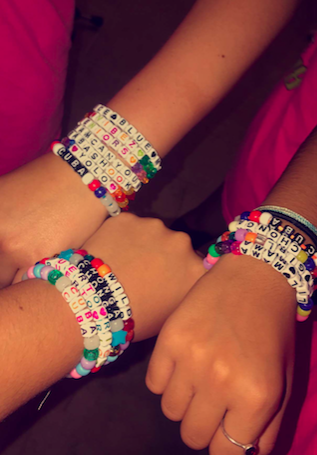 Melanie Krueger('18) said,  "I was beyond exhausted the morning of orientation, but the second I smelled coffee and chicken minis, it was like I had resurrected or something. The most exciting part of the day was running into the gym with all of my best friends chanting 'SENIORS! SENIORS' and finally being able to be at the center of the alma mater clump. I'm so excited for this year, and I've already started to become nostalgic thinking about how many lasts I'm about to experience."