Julia Barreto Directs Her First One Act Play
October 6, 2017
Julia Barreto ('18) has taken on the role of director in Academy's newest show, "And The Bride Wore…". This one act play will be the first student-directed show in the Bailey Center. Auditions have wrapped and characters have been cast for the upcoming performance.
"I was really interested in putting on a show, so I asked [Theatre Director] Mrs. Kimbler a few years ago if I could direct a one act," Barreto said, "she told me to remind her of it when I was a senior. So, year after year I kept asking, and now, it's finally happening."
"And The Bride Wore…" is a 25-30 minute show by Cheryl Barrett. It is a comedy one-act and takes place in an exclusive bridal shop. In the show, the characters from each side of the bride's family are bantering and quarreling while choosing the perfect wedding gown.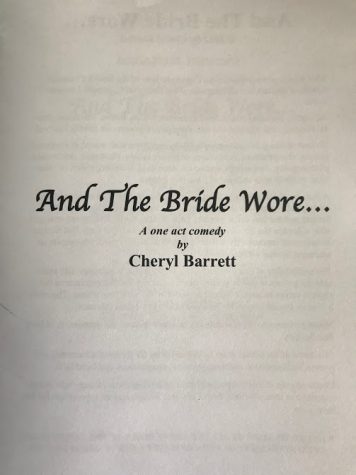 Students from Barreto's advanced acting class auditioned in early September. Auditions took place on the Lynch Family Stage in the Bailey Center. Each student read a few lines for each character and was evaluated by Barreto. The cast is very inclusive, ranging from freshman to seniors.
Best selling one act play 'And The Bride Wore…' by Cheryl Barrett from Lazy Bee Scripts https://t.co/mWvqjXxM92

— Cheryl (@cheryl_jazz) September 12, 2017
Stephanie Oehler ('21), said, "I play Tayla Roberts, the bride. I auditioned because it seemed like a fun opportunity and a good bonding experience with all my new classmates. I'm really looking forward to getting involved in the performing arts program."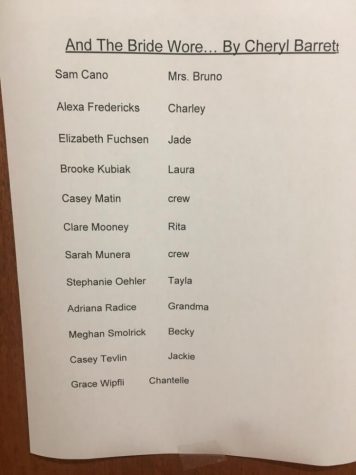 The Academy has been looking into ways to expand the performing arts program to a wide variety of students. This is the first time the school has granted a student the privilege to direct and mainstage their own show. By allowing this, they are providing the opportunity of a lifetime.
Adrianna Radice ('19), said, "I think the dynamic of a student directed one act is really interesting. It gives the student-director a really nice sense of leadership. I play the grandmother. She is a very contemptuous woman. It's a really funny show, so everyone should definitely come check it out."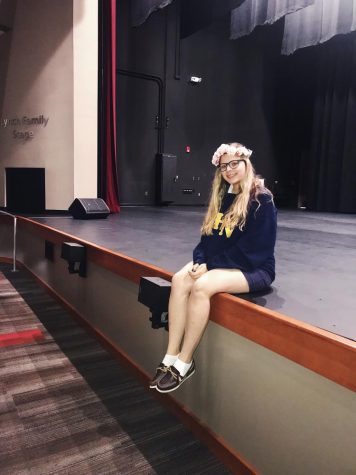 Students in Barreto's one act have been rehearsing diligently after school for the past few weeks to prepare for the show. With a cast and crew of twelve, all of the actresses must work closely with Barreto to keep the show running smoothly.

"The hardest part of this whole experience, so far, is the responsibility I have to maintain. Although, it gives me a really great sense of authority," Barreto said.
The talented cast and crew of, "And The Bride Wore…", will take the stage on Jan. 11, at 7:00 PM.